Japan's plutonium inventory for 2003
In Nuke Info Tokyo 102 we presented data on Japan's plutonium inventory for the 2003 business year. Since then, on September 21st the government published data for the 2003 calendar year.
It is, in fact, more detailed than ever before, specifying for the first time how much of the plutonium is fissile.
Japan has published data on its plutonium holdings since 1993. In this table we have only included the data from 1996.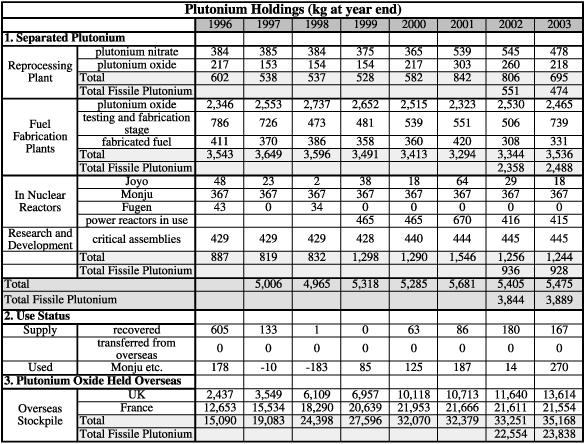 Return to CNIC's Data page
Return to NIT 103 contents

CNIC
Citizens' Nuclear Information Center
Akebonobashi Co-op 2F-B, 8-5 Sumiyoshi-cho,
Shinjuku-ku, Tokyo, 162-0065, Japan
TEL.03-3357-3800
FAX.03-3357-3801
Map
http://cnic.jp/english/
Email