Labor Standards Inspection Office in Yokohama recognizes death of Fukushima nuclear worker as eligible for compensation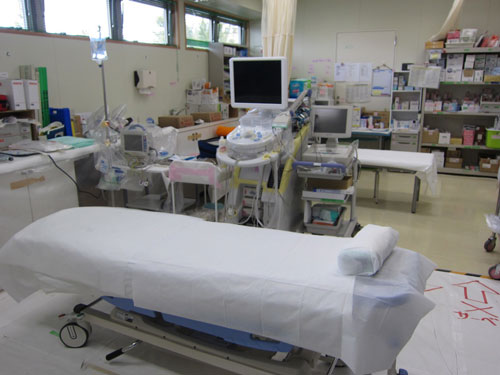 Medicare room at J-Villege (Photo by TEPCO)
On February 24, the Yokohama Minami Labor Standards Inspection Office (LSIO) determined that the fatal heart attack of a worker, Nobukatsu Osumi, at the Fukushima Daiichi Nuclear Power Station in May 2011 was caused by overwork, and recognized his death as a workplace accident eligible for workers' compensation. This is the first time in which compensation has been recognized for the illness or death of a worker at the nuclear accident site.
Mr. Osumi was hired as a temporary worker by a construction company, a fourth-level subcontractor under the prime contractor Toshiba Corp., in Omaezaki City, Shizuoka Prefecture, and was dispatched to the Fukushima Nuclear Power Station. At around 2:30 a.m. on May 13, he left the workers' dormitory, quite a long distance from the nuclear accident site, and began his first three-hour shift, from 6:00 to 9:00 a.m., working on piping and other work for installing waste processing equipment in a radioactive waste disposal facility at the complex.
On the second day, at around 6:50 a.m. on May 14, he collapsed while carrying a special kind of saw. He was rushed to the plant's first-aid room, but the doctor was off duty, and at 8:10 he was transported to J Village, a sports facility about 20 kilometers away from the plant now being used as a logistical base for workers at the Fukushima nuclear accident site, which did not have sufficient medical equipment. He was then taken to a hospital in Iwaki City by ambulance, where he died at 9:33 a.m.
It took more than two hours from the time when Mr. Osumi complained of not feeling well to his arrival at the Iwaki hospital. Following his death, some experts criticized the deficiencies in the plant's emergency care system for workers. In response, plant operator Tokyo Electric Power Co. (TEPCO) has at last placed a doctor on standby 24 hours a day. While working at the plant, Mr. Osumi received only a small radiation dosage, 0.68 millisieverts (mSv). According to some media reports, when Mr. Osumi's family applied for workers' compensation TEPCO commented that the company did not believe there was a strong connection between the work and his death. Meanwhile, Toshiba said the relationship between the work and his heart attack was not clear, and that, at that stage it was difficult to judge whether or not it was a workplace accident. To date, neither Toshiba nor TEPCO have offered consolatory money or other compensation, customary in Japan when a worker dies at the workplace, to his bereaved family.
LSIO attaches importance to the extremely severe working environment at Fukushima plant

Although Mr. Osumi only worked for a total of just under four hours on the two days, the work was carried out in a harsh environment, wearing a mask and protective clothing, and entailed traveling a long distance late at night followed by work in the early morning. LSIO concluded that the extremely severe working environment placed heavy mental and physical burdens on the worker, resulting in the heart attack, and therefore recognized his death as due to overwork for a short period of time, which is eligible for compensation.
The Ministry of Health, Labor and Welfare (MHLW) says it will recognize brain or heart disease as a 'workplace accident eligible for compensation' only when the patient was involved in one of the following three cases immediately before the development of the symptom, 1) a long period of overwork, 2) extremely hard work for a short period of time, or 3) an abnormal occurrence (e.g. an accident).
Up to now, however, it has proven very difficult for nuclear power station workers to win LSIO recognition for workplace accidents. The recent government recognition of the working environment at the nuclear power station as extremely severe is, therefore, a landmark admission, and is expected to pave the way for relief for workers who have become ill or who have been involved in an accident at the site.
Mr. Osumi is not the only worker to have died while working at the Fukushima Daiichi Nuclear Power Station. Three others have lost their lives while working there, including a male worker engaged in the management of radiation exposure doses of other workers using the resting station. He died of leukemia despite the fact that he was engaged in this work for only seven days in early August last year. His cumulative radiation exposure was 0.5 mSv, and his internal exposure is said to have been zero.
Another male worker in his 50's, who began work at the site on August 8, collapsed and died on October 6 while working on the installation of a tank for storing contaminated water from the crippled reactor units. The cause of his death was shock from blood poisoning resulting from a retroperitoneal abscess. On the previous day, at around 7 a.m., he became unable to walk and complained of feeling ill as he was heading for a regular morning work meeting. His cumulative radiation exposure was 2.02 mSv.
The third worker was engaged in pouring concrete in the sludge waste storage facility, under construction at the time, on January 9, 2012 when he complained of feeling unwell. He was rushed to the emergency care room at Units 5 and 6, but he fell into a state of respiratory arrest and was taken to a hospital in Iwaki City.
As of the end of February 2012, a total of 35 applications for workers' compensation had been filed by workers at the nuclear accident site. In September 2011, MHLW Minister Yoko Komiyama stated that she intended to relax the conditions for granting workers' compensation to nuclear power station workers so that workers suffering from various types of cancer would become eligible for compensation. We hope this plan will be implemented and that more nuclear power station workers will be able to receive such compensation.
Two persons have also died in decontamination work

Decontamination work is currently being carried out in many parts of Japan, and two people have already died while engaged in such work. On December 12, 2011, a male worker participating in a model decontamination project in Shimo-oguni, Ryozen-machi, Date City, Fukushima Prefecture, was found unconscious in a truck during lunch break. He was in a state of respiratory arrest and died in hospital about one hour later. The cause of his death is yet to be announced.
The Nuclear Disaster Countermeasures Headquarters of the Cabinet Office and the Japan Atomic Energy Agency jointly announced on January17, 2012 that another male worker involved in a model decontamination project in Hirono Town, Fukushima Prefecture, collapsed while working and died in hospital of a myocardial infarction.
In the short space of just two months from October last year, a new regulation on decontamination was enacted and went into full effect on January 1, 2012. This regulation applies to the whole area of Fukushima Prefecture, and to some areas of Iwate, Miyagi, Ibaraki, Tochigi, Gunma, Saitama, and Chiba Prefectures in which radiation doses are expected to exceed 0.23 microsievert per hour (μSv/hr). These areas are designated as "special decontamination zones" where decontamination work should be carried out under direct government control, or "priority areas for contamination surveys," where the decontamination of land plots, including the removal and collection of contaminated soil, is to be carried out. The annual radiation exposure limit for decontamination workers is 50 mSv and the five-year limit 100 mSv, the same level as that for nuclear power station workers.
As for decontamination work to be conducted in other places, such as in company premises and branch offices, the government calls on volunteer workers, the self-employed, or local residents participating in the work to observe the new regulation. We will keep a close watch on the development of this problem of the radiation exposure of decontamination workers, in addition to the exposure problems of nuclear power station workers.
Mikiko Watanabe (CNIC)
Return to CNIC's Earthquakes and Nuclear Power page
Return to CNIC's Radiation Exposure page

CNIC
Citizens' Nuclear Information Center
Akebonobashi Co-op 2F-B, 8-5 Sumiyoshi-cho,
Shinjuku-ku, Tokyo, 162-0065, Japan
TEL.03-3357-3800
FAX.03-3357-3801
Map
http://cnic.jp/english/
Email