The Downward Trend of the Nuclear Development Plan In Japan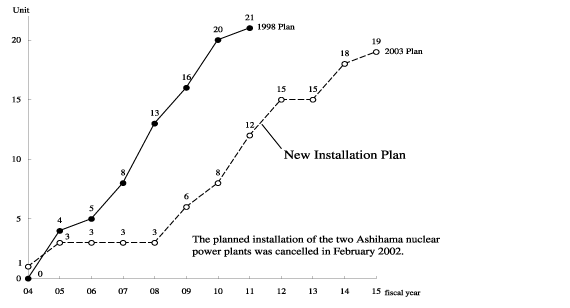 All electric companies in Japan had completed the Electric Supply Plan for the fiscal year of 2003 by the end of March*. In these plans, each company sets out its plan for starting the operation of new nuclear power plants. Nineteen nuclear power plants are proposed at the moment. Three of these are under construction, and the Basic Power Plant Development Plan, which was published by the Japanese government, includes the construction plans for another eight. However, the property has not been secured for two of these plants. Therefore the procedure for the security inspection is currently suspended while the company applies for permission for establishing these two reactors. Moreover, they have not applied for permission to establish the other four reactors yet.
According to the plan, eight more reactors will start operating by the end of the year 2010. In accordance with the agreement of the Kyoto protocol, Japan is obligated to cut down CO2 emission to prevent global warming. To meet this condition it is necessary for Japan to start operating twenty more reactors by the end of 2010. So even the existing government plan can only achieve about forty per cent of what is needed. And every time the plan is revised, the plans for three proposed nuclear reactors have been postponed for another year. It is apparent that the plan for the next fiscal year will achieve a smaller reduction in CO2 emissions than this year.
*Ministry of Economy, Trade and Industry (2003) 'Summary of Electric Supply Plan in Fiscal 2003'
Return to NIT 94 Contents

CNIC
Citizens' Nuclear Information Center
Akebonobashi Co-op 2F-B, 8-5 Sumiyoshi-cho,
Shinjuku-ku, Tokyo, 162-0065, Japan
TEL.03-3357-3800
FAX.03-3357-3801
Map
http://cnic.jp/english/
Email