Anti-Nuke Who's Who
Yoko Nozaka: Representative of "Citizens against the interim storage facility in Shimokita"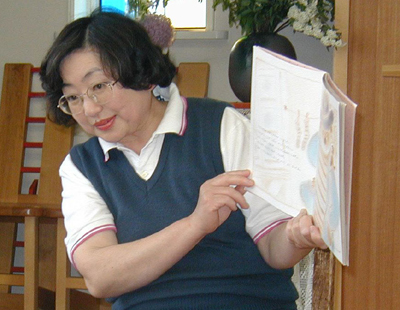 "Citizens against the interim storage facility in Shimokita" is a group of farmers, social workers, and kindergarten teachers whose aim is to make Mutsu and Shimokita a better area. This summer, we will start our third year of a campaign against the city's decision to build a storage facility for spent fuel.
Shimokita peninsula began its history as a nuclear peninsula by becoming a mother port for the nuclear ship called Mutsu. Although Mutsu was retired, after its retirement, the reactor that was on the ship was displayed for the public at the Museum of Science in the city. By an international standard it is quite unusual to place such a reactor in a public place since it emits radiation and this small amount of radiation may affect children who visit the museum as a part of their social studies.
Our representative, Yoko Nozaka is an experienced kindergarten teacher and also known as the best expert on children's in Mutsu. Our group won local support thanks to her presence in the local community. Until her retirement to prepare for the local referendum, she was a director of a local commission on children and a trainer in the Mutsu municipal for youth education. Currently, she is a director of recreational associations in Mutsu and also a staff member of an international support group on raising children called "Hugging mothers" (Dakko-no-kai) and "the toy library". Moreover, she is a volunteer for a group who read stories to the children and often appears on local FM radio to talk about issues concerning children.
Her writings are very effective because they are written simply enough for everyone to understand the problems of the interim storage facility for spent fuel. Readers can relate to this issue as an extension of their daily conversations.
She is a mother of four girls and has had a second grandchild this past spring. She expresses her strong opposition to the nuclear facility-"not for our children!" Her words reach out to many people as a powerful and sincere statement. She is studying counseling to further develop her career in children's issues. Her presence is truly irreplaceable.
The city mayor pushed the city council to decide to accept the invitation to set up such facilities last June. Our point of view on this matter is that it is now necessary to get rid of all nuclear facilities so we can keep our hope for the future. We also believe that everyone uses nuclear power is responsible for its waste. With Yoko Nozaka's leadership we will continue our campaign to put an end to the interim storage facility planned for Mutsu.
*Midori Inaba is a member of the "Citizens Against the Interim Storage Facility in Shimokita"

CNIC
Citizens' Nuclear Information Center
Akebonobashi Co-op 2F-B, 8-5 Sumiyoshi-cho,
Shinjuku-ku, Tokyo, 162-0065, Japan
TEL.03-3357-3800
FAX.03-3357-3801
Map
http://cnic.jp/english/
Email