Viet Nam Chooses Japan as "Partner for Building two Reactors"
On October 31, Japanese Prime Minister Naoto Kan and Vietnamese Prime Minister Nguyen Tan Dung issued a joint statement stating that the Vietnamese Government had "decided to choose Japan as the cooperation partner for building two reactors at the second nuclear power plant site in Ninh Thuan Province". The statement also indicated that negotiations on the substance of a Japan-Viet Nam nuclear cooperation agreement had been concluded and that the two countries expect to sign the agreement soon.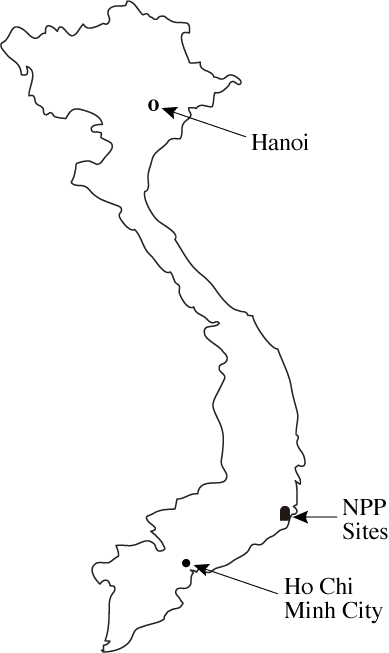 On November 24, 2009 the National Assembly of Vietnam approved a plan to build up to four reactors at two sites with an initial budget of about US$11 billion. It was reported earlier this year that the Vietnamese Government had chosen Russian technology for the construction of two reactors at its first nuclear power plant site, also in Ninh Thuan Province. On October 31, the same day as the Japan-Viet Nam joint statement, Russian President Dmitry Medvedev witnessed the signing between Russian state nuclear conglomerate Rosatom and the Vietnamese Government of an estimated US$5.6 billion contract for construction of the two reactors at the first site.
Construction of these nuclear power plants is scheduled to start in 2014, with operations of the first reactor scheduled to start in 2020.
Akihiro Ohata, Minister for Economy Trade and Industry, issued a statement saying that Japan Atomic Power Company (JAPCO) and Vietnam's state-owned utility Electricity of Viet Nam (EVN) would shortly begin a feasibility study and that the recently established International Nuclear Energy Development of Japan Co., Ltd. (JINED - see News Watch on page 11) and EVN would make arrangements to speed up detailed consideration of the construction, operation and maintenance of the nuclear power plants. He also said that related ministries and agencies would work together to assist Vietnam with training, and to put in place safety regulations and related systems.
The Democratic Party of Japan is elated with its "great achievement" in winning Japan's "first nuclear power plant export", something that not even the Liberal Democratic Party could achieve during its many decades in office. But how does the Japanese Government view its responsibilities in relation to the proposed export? It is hard to imagine that the Vietnamese Government has provided its people with accurate information, or that it will allow genuine participation by the residents around the proposed site in Ninh Thuan Province's Ninh Hai District. Japan is taking advantage of disparities in access to information and lack of participation in decision-making processes in order to enable it to export nuclear power plants. This is equivalent to engaging in the worst type of polluting export.
Prime Minister Kan gave his assurance that Japan would "meet the conditions that Viet Nam had set out." These conditions were quoted as follows:
"...assistance in conducting feasibility studies for the project, low-interest and preferential loans for the project, use of most advanced technology with highest safety standards, technology transfer and training of human resources, cooperation in the waste treatment and the stable supply of materials for the whole life of the project."
One can only wonder how Japan proposes to meet conditions such as "the highest safety standards" and "waste treatment", when it cannot even fulfill its responsibilities in these areas for Japan's own nuclear program.
The way ahead is completely unclear. During a meeting held on November 2 between the Ministry for Economy Trade and Industry (METI), NGOs and Social Democratic Party leader, Mizuho Fukushima, a METI official admitted that none of the key details had been decided, including price or plant type, and that the whole deal could collapse if future negotiations do not yield agreement.
JINED, which includes Japan's major plant makers and electric power companies, is the central point of contact. Nevertheless, the companies remain rivals. The Yomiuri Shimbun (November 1 Japanese edition, November 2 English edition) noted, "Profits reeled in by individual firms ... likely will differ greatly depending on the terms of contracts Vietnam will propose hereafter." Nikkei Shimbun (November 1) expressed concerns, saying, "From a cost-benefit perspective it is doubtful whether adequate results will be achieved" and "participation in [plant] operation provides an opportunity to expand business overseas, but if there is an accident this could develop into a situation which shakes [the company's] finances."
So, while Japan may have taken a significant first step in dividing up the spoils of what remains of the alleged nuclear renaissance, there is still a long way to go before this deal is done.
Baku Nishio and Philip White
Citizens' Nuclear Information Center
Return to NIT 139 contents
See also CNIC's Asian Nukes Campaign page

CNIC
Citizens' Nuclear Information Center
Akebonobashi Co-op 2F-B, 8-5 Sumiyoshi-cho,
Shinjuku-ku, Tokyo, 162-0065, Japan
TEL.03-3357-3800
FAX.03-3357-3801
Map
http://cnic.jp/english/
Email