Kashiwazaki-Kariwa Unit 7 Restarted Treading on Thin Ice Nuke Info Tokyo No. 130
On May 9, Tokyo Electric Power Company (TEPCO) began start-up testing of Unit 7 (ABWR, 1,356 MW) of its Kashiwazaki-Kariwa Nuclear Power Plant. It is the first reactor at the plant to be restarted since 16 July 2007, when the plant was struck by the Chuetsu-oki Earthquake. The governor of Niigata and the mayors of Kashiwazaki City and Kariwa Village officially approved restart of KK-7 the previous day.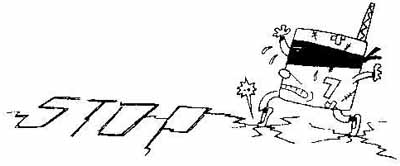 Cartoon by Shoji Takagi
CNIC issued a statement of protest on May 8, immediately after the mayors and the governor gave their approval to restart the plant. The statement pointed out that there is no scientific basis for approving the restart of KK-7. We are concerned that important issues remain unresolved (see NIT 129). In fact, Niigata Prefecture's sub-committee looking into equipment integrity and earthquake resistance and safety has not even completed its deliberations.
On April 7, Seiji Shiroya, chairman of Niigata Prefecture's technical committee on safety control of nuclear power plants (the parent committee of the two subcommittees which were set up by Niigata Prefecture after the Chuetsu-oki Earthquake), delivered a report to Governor Hirohiko Izumida. Disregarding the cautious debate within the subcommittees, the report concluded that it was safe to restart KK-7. However, on April 11 a fire occurred at the plant, the ninth since the earthquake (see News Watch). In response the governor commissioned external experts to check TEPCO's fire prevention plan. On May 7, after receiving the experts' report, Governor Izumida explained to a full sitting of the Prefectural Assembly that he intended to give his permission to restart the plant.
TEPCO began withdrawing the control rods at 1:53pm on May 9 and started up the reactor. Problems first arose that night at 11:15pm in a valve in the main steam system. More problems occurred on May 11. TEPCO's press release described the May 11 problems, which occurred at 6:43am and 6:53am, as follows:
"[W]hile performing an activation test of the reactor core isolation cooling system (RCIC), water level of the suppression pool went beyond the normal level…[T]he RCIC could not be shut down by normal procedure and had to be shut down manually at the site."
The problems led to a departure from the "Limiting Condition for Operation" stipulated in the Technical Specification. TEPCO had intended to start the turbines and begin sending electricity to Tokyo on May 15, but as a result of these problems it was not able to do so until May 19.
We believe they are treading on thin ice restarting the plant.
Yukio Yamaguchi (CNIC Co-Director)