Public Finance and Export Insurance for Nuclear-Related Exports NGOs Demand Rigorous Safety Assessment, Information Disclosure and Stakeholder Involvement Nuke Info Tokyo No. 132
Concerned about the potential environmental and social consequences of the Japanese Government's vigorous promotion of nuclear exports, on July 27, Japanese NGOs submitted demands regarding finance for nuclear energy related projects to the Ministry of Finance (MoF), the Ministry of Economy, Trade and Industry (METI), Japan Bank for International Cooperation (JBIC) and Nippon Export and Investment Insurance (NEXI). The submission demanded rigorous safety assessment, information disclosure and meaningful stakeholder involvement for projects supported by JBIC and NEXI.
The submission was drafted by the following four Japanese NGOs.
Japan Center for a Sustainable Environment and Society
Citizens' Nuclear Information Center
Friends of the Earth Japan
Mekong Watch
In addition to these four NGOs, the submission was endorsed by 15 other Japanese NGOs.
JBIC and NEXI currently lack adequate guidelines for the assessment of nuclear related issues, such as safety, accident response and radioactive waste management. Furthermore, access to information and stakeholder involvement in relation to projects' nuclear component is not guaranteed.
During a public consultation process that continued for much of 2008, NGOs demanded that provisions covering nuclear energy related projects be included in revised environmental and social guidelines. The new guidelines were released in July this year, but no such provisions were included. However, in a response dated November 11, 2008 to a question by Diet Member Masamichi Kondoh, the government said, "JBIC will produce guidelines that ensure that finance is not provided for [nuclear] projects where the project proponent has not provided appropriate information to residents in regard to confirmation of the project's safety, accident response and management of radioactive waste." The government has not indicated whether NEXI will produce similar guidelines.
The NGOs welcomed JBIC's intention of producing guidelines for nuclear-related projects and called on NEXI to do likewise. It is expected that JBIC will commence some form of consultation process towards production of the guidelines later this year.
The submission's main points are as follows:
Public support should not be provided for nuclear-related projects in countries which have not ratified an Additional Protocol with the IAEA.
Public support should not be provided for nuclear-related projects in regions of tension and regions where terrorism is rife, or for projects in politically unstable countries.
Safety standards at least as high as those in Japan should be required.
Nuclear facilities should be designed to withstand worst-case accidents, including earthquakes and aircraft crashes.
The details and the efficacy of safety plans and management and disposal plans for radioactive waste, including spent nuclear fuel, should be confirmed.
Appropriate standards and monitoring systems in regard to worker radiation exposure should be in place.
The ability of project proponents to carry out the project should be confirmed.
Adequate access to information and stakeholder involvement and consent should be assured, including for stakeholders outside the borders of the country in which the project is carried out.
Alternatives to nuclear energy, including renewable energy and energy efficiency should be considered.
Proposals should be reviewed by an independent review committee.
JBIC and NEXI are both looking to expand their involvement in export credit and insurance for nuclear energy related projects in which Japanese companies are participating (see NIT 126). In January this year NEXI created a new insurance facility called "Trade and Investment Insurance for Preventing Global Warming". This facility provides for up to 2 billion yen in insurance cover over a period of 10 years for projects deemed to contribute to reducing greenhouse gas emissions. Eligible categories include projects related to nuclear power production.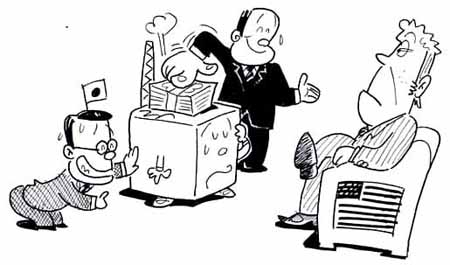 Cartoon by Shoji Takagi
JBIC has also taken special steps to facilitate its involvement in nuclear energy related projects. In principle, JBIC financial support is restricted to developing countries, but exceptions may be approved by regulation for investment finance that maintains or improves the international competitiveness of Japanese industry. Cabinet approved such a regulation on August 28, 2008 to allow JBIC to provide investment finance for the construction of nuclear power plants in developed countries. The government is particularly keen to promote Japanese involvement in planned US plants.
However, the government is not only focusing on the U.S. in its promotion of nuclear exports. The newly established International Nuclear Energy Cooperation Council (see NIT 131) is adopting an all-Japan approach aimed at passing on know how about nuclear security and safety to countries which plan to introduce nuclear power, in particular in Asia.
The NGO submission applies to both developing and developed countries. However, it notes that the risks of promoting nuclear power in developing countries, which often suffer from governance problems and lack the necessary democratic participatory processes and technical skills, are particularly great. Under these circumstances, the submission demanded that the government exercise the utmost caution when considering proposals for public finance and export insurance for nuclear projects.
Philip White (NIT Editor)