Anti-Nuke Who's Who Hatsumi Ishimaru a fired up ordinary housewife Nuke Info Tokyo No. 141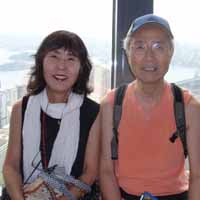 Hatsumi Ishimaru with her husband
Hatsumi Ishimaru is just an ordinary country housewife of the type you might find anywhere in Japan.She played the horn in her high school's brass band and married a rather handsome clarinetist in the same band. Together they have raised two sons and two daughters, all of whom are fine caring young people. Her husband deals in securities. At 60 he is not afraid to boast about his wife to anyone, saying, "Hatsumi's cute isn't she." Perhaps that is a bit strange, but in every other way all the family are normal cheerful people.
Hatsumi worked very hard while she was raising her children. She helped support the family by working as an accountant, a job at which she was very skilled. During that time, due to conflicts between the tendency for accounting to become mired in corruption and her sense of justice, she went from one company to the other. All the time this ordinary housewife just worked as hard as she could for the sake of her family.
Naturally, her life had no connection with nuclear power plants. But then in February 2006 Saga Prefecture announced that it would permit the implementation of pluthermal1 at Unit 3 of Kyushu Electric Power Company's Genkai Nuclear Power Plant. A citizens campaign arose in opposition to this and, at the invitation of a former teacher, Hatsumi found herself attending a meeting, whether she wanted to or not. But as she listened Hatsumi's, or should I say rather "this ordinary housewife's" instincts told her, "This is dangerous." At the same time, her sense of justice told her, "This has to be stopped." Hatsumi was fired up and ever since she has been distributing leaflets and collecting signatures and the whole bit.
Hatsumi is now leader of the Genkai Pluthermal Lawsuit Group, but she is a bit different from other leaders. In fact, she is not really a "leader" at all. The role of "leader" wouldn't suit her. The reason why she is nominally the leader is because of her ability to connect people. The network she has created in the few years that she has been involved in the movement against nuclear power is amazing. She joins hands with people on equal terms. That's why she cannot be in a hierarchical relationship with them. Perhaps to some people the group just looks like a heap of old acorns lying around.
But isn't that just what civil society movements should be like? And in the end, bound together by Hatsumi's enthusiasm, real unity is formed. When the time comes for everyone to pull together and combine their wisdom, it is Hatsumi who is running back and forth between people. Unselfish, pure-hearted, intuitive and honest and mighty strong: that's the type of person the leader of our heap of old acorns club, Hatsumi Ishimaru, is.
1. The term 'pluthermal' refers to the use of plutonium in light water reactors. The fuel is made from a mixed oxide of plutonium and uranium (MOX).
*Kyoko Nakamura is a member of the Genkai Pluthermal Lawsuit Group.