Anti-Nuke Who's Who Ms. Toshiko Baba Nuke Info Tokyo No. 91
Anti-Nuke Who's Who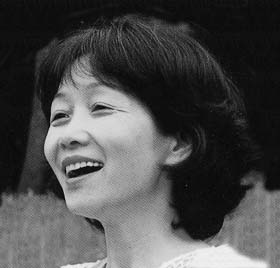 At first glance, Ms. Toshiko Baba seems to be an ordinary woman, but in fact she is quite unique. Her activity stems from nothing special, but from something that anyone who lives in contemporary society knows. She values something that everybody knows about, but doesn't care about any more. She acts on her own responsibility with her quiet faith that things can be done differently.
'Life' is one of the examples. Every human being appreciates his or her life. Yet, how many of them have a serious desire to protect their lives? Food enables life; the human mind cares for life; but man-made materials threaten life. How many people actually think about life and make their decisions with life itself as the basis of their thought?
When she was a college student Toshiko was devoted to drama. There, she met her man of destiny, became a housewife and had children. Hers was just an ordinary life until the baby inside her spoke to her one day during a beautiful sunset. 'I will be born from all the air you breathe, all the water you drink, and all the food you eat.'
Having her children and seeing her life in terms of a 'life valuing' perspective, she realized the truth that even her breast milk was contaminated with pesticides and radiation. Since then, she has been continuously active in doing what she can while also valuing her time with her family as a housewife. Although she feels that what she has done so far is not so important, she has participated in many activities such as 'A Radiation Measuring Room,' 'Chernobyl Relief in Shizuoka,' and 'Lectures for a Healthy Life' and many more, including activities as an individual and also collaborative work in which she sometimes cries and laughs with others.
As Toshiko's two children are now eighteen and thirteen years old, she has more free time than before. Last year, she accepted a secretariat position in the court trial which is seeking to shut down the Hamaoka nuclear power plants. If the plants cannot ensure safety against an inevitable earthquake, they have to be shut down. Toshiko's attitude, stemming from a purely life-centered perspective, has attracted much sympathy. We should not take the current situation for granted. Rather, we should continue to speak out about how we think society should be and try to work towards its realization. We should not fight with others, not get angry, and not blame others for what is happening. Rather, we should talk to others, grieve, and pray and try to indicate a new direction. This approach shows Toshiko's commitment to her long-cherished ideals.
However, she said, 'To be honest, I want to perform in plays again.' It seems that she wants to live a life that is as free as the wind. What could be better than if all her worries were resolved so that she could live in the way she desires?