Who's Who: Kuse Shigetsugu "Strengthening local industry is the best way to keep nuclear dumps out"
By Tanaka Saneiki (Mr. Kuse's son-in-law) and Yamaji Genta (head of the Toyotomi Town group to protect residents)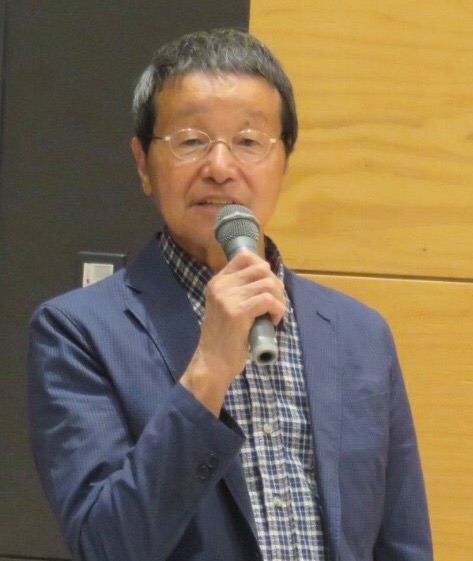 In 1944, Kuse Shigetsugu was born in a family that ran a store in Tsuyama City, Okayama Prefecture, located in the western part of Honshu Island. Today he lives in a rural area of Toyotomi Town, situated near the northern edge of Hokkaido, the northmost of Japan's four main islands. His four children also live in the area. It was twenty years ago that he founded a small business making handmade cheese and ice cream products in the town. When he had a serious disease five years ago, he handed over the business, named Laitier, to one of his daughters, while retaining his association with the business as chairman.
While feeding four pigs and a dozen chickens every morning and evening, Kuse, turning 76 soon, vigorously commits himself to organizing recreational camps for children living in nuclear-hit Fukushima Prefecture, and to his lifelong project, which is to prevent the admission of nuclear wastes into Hokkaido. He travels busily, e.g., visiting a city, spending a half a day on transportation, to give a lecture or to raise funds, from the Ebekorobetsu Self-supporting Village, which is the base of his activities today.
Kuse is quiet and genial but has lived a life full of challenges, which no one could tell from his character. As a student he lived in Hyogo Prefecture, which neighbors Okayama Prefecture. In those days, namely, in the 1960s and 1970s, student activism was extremely intense nationwide, Kuse being in the frontline of the movement as one of students involved. After graduation, he looked for employment, but no companies were willing to hire him because of his intense commitment to the movement.
After giving up joining a large company, he was engaged in students' co-op activities for a few years, while continuing to participate in the student movement. His focus gradually shifted to community co-op activities.
In 1973 he started to pay close attention to food safety, and established a co-op in the Kansai area (which includes Hyogo, where he spent his student days), for the sake of consumers who were looking for safe food. The co-op mainly carried essential food products, such as rice, soybean paste and soy sauce. Kuse had a special enthusiasm for safe cow milk. When consumer milk produced on Awaji Island, Hyogo Prefecture, was found to include residual pesticides, he negotiated with a milk supplier in Hokkaido (Yotsuba Milk Products) to distribute safe raw milk, and became the first supplier of Yotsuba products in Kansai.
In 1982 he moved to a mountainous area in Hyogo with his two children, to do organic farming by himself. He led a completely self-sufficient life for six years there. In 1989, at the age of 45, he and his family moved to Hokkaido with their cattle, sheep, and poultry, all of which the five-member family had raised. In the rural area of Toyotomi Town, where he currently lives, he started a new life as a farmer. When settling there, Kuse had neither seed money nor acquaintances. He started up his new life on his own, based on his experience. He tore down old unoccupied houses and built the family home and livestock barns. He opened up mountainous forests and wilderness for farming land. He was recognized as a farmer by the community in the third year after the family had settled there. He gained local cooperation gradually, including that of Japan Agricultural Cooperatives (JA). He obtained farming land and a cattle shed in Toyotomi Town, and started up a full-scale dairy farm.
In the tenth year after settling in the area, he established the Cheese Network Study Group with farmers in the area. After gathering funds from investors, in 2000 he established a small factory for dairy products, Kōbō Laitier, named after a French word that refers to this kind of dairy factory.
According to Kuse, dairy husbandry is the key industry in the local area, followed by the processing of raw produce as the next step and the sales and distribution of processed products as the third step. "This is a natural process of local development, to achieve further independence and vitalization of the area, where primary industry is already established." Dairy husbandry as the "sixth industry" (where "six" signifies the combination of primary, secondary and tertiary industries) is often heard of recently in the context of agriculture in Japan, but Kuse was aware of the possibility of such development a long time before, and realized the idea in practice in cooperation with the community. Today, Laitier carries the signature agricultural products of the area, loved by many customers in the local area and nationwide.
Currently, his eldest son runs a pasture in a neighboring town, his second daughter is married to a cattle farmer whose production is one of the largest in Toyotomi Town, his first daughter is married to a farrier who supports cattle farmers, and his third daughter runs Laitier. All the children are associated with dairy husbandry, the key industry in the area. Their lives are deeply rooted in the local community. The children themselves decided to live this way, having seen their father's way of living.
A few years before Kuse settled in Toyotomi Town, the neighboring Horonobe Town launched a project to host a nuclear waste disposal site. As a former student activist, Kuse directly wrestles with this still-ongoing Horonobe problem, adamantly opposing the project.
In 1998, the Storage Engineering Test Center construction project by the Japan Atomic Energy Agency (JAEA) was cancelled in Horonobe, and instead, the construction of the JAEA Horonobe Underground Research Center, which is still in operation today, was decided on.
About the same time, Kuse started up Laitier with local colleagues as already described. In 2000, he initiated the shift of his cattle husbandry business to a "sixth industry" dairy-product processing and distribution business, to be ready for the expected long-term struggle against the Horonobe problem.
Concerning the Horonobe project, many schemes were introduced to show that the Research Center would perform underground research only and that nuclear waste disposal would never be allowed there. Most of those who initially participated in the movement against the Horonobe project then left, believing that the movement was over. However, remaining activists, including Kuse, concluded: "Now the government and JAEA say that disposal site research and actual waste disposal are completely separate, but the government will ultimately build a nuclear waste disposal site, because analysis of the government's behavior suggests that it will." They therefore continued the movement against the Horonobe problem. Furthermore, Kuse proposed to the remaining activists that, to learn the thoughts of the Hokkaido population, a questionnaire survey should be conducted. His colleagues, however, said: "The questionnaire survey would show that the local population is satisfied with the decision of the separation between research and disposal. In that case, action against the Horonobe problem could lose its raison d'être." "Even if the survey result indicates the Hokkaido population has a different idea from ours, we are locals and our movement is for the benefit of the locals," Kuse responded. "We should continue our movement based on the ideas of locals." To raise funds for the survey, he urged colleagues: "Let's conduct this survey even if we need to sell some of our cattle." He persuaded his colleagues and the survey was conducted by a specialist statistics institution. The survey result indicated that 75% of the population of the northern part of Hokkaido was against the Horonobe project, even if the national government would conduct research only.
Kuse has a strong will to fight against the Horonobe problem. Even under unfavorable circumstances, he sincerely commits himself to the movement. When we see his smiles appearing, never knowing how to give up, we always have a feeling of satisfaction as members of the community movement.
In 2020, a decision was made to enable the extension of the Horonobe Center operation period, while Suttsu Town and Kamoenai Village, both located in the central part of Hokkaido, raised their hands to invite a governmental investigation as a preliminary process to becoming the host town of a nuclear waste site. Kuse has organized a signature gathering movement all over Hokkaido and continues to act against any nuclear waste site construction project in Hokkaido while taking account of the thoughts of the local population.