Anti-Nuke Who's Who Environmentalist sisters are descendents of a sea lord Nuke Info Tokyo No. 105
By Shinji Watanabe*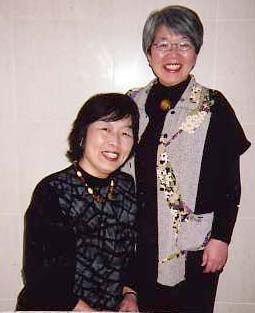 Kyoko Ono (left) and Etsuko Abe
In the 16th century, about 450 years ago during the 'Age of Civil Wars', the Seto Inland Sea was ruled by a feudal lord, called Sea Lord Murakami. The Lord protected trading ships from pirates, and made a name for himself in naval battles.The maiden name of sisters Etsuko Abe and Kyoko Ono is Seno. The Seno family is descended from Sea Lord Murakami. The pride and the bloodline of the sea-dwelling people live on in the hearts of the sisters.
Etsuko Abe is a key person in the environmental preservation movement in Ehime Prefecture. Currently, as the Representative of the Pan-Seto Inland Sea Congress, she works on issues such as land reclamation, pollution prevention and law reform concerning the Seto Inland Sea. Further, as a reformist/citizen faction Member of the Ehime Prefectural Assembly, she continues to make bold statements mainly on environment and education, including on issues related to the Ikata Nuclear Power Plant, such as the pluthermal1 program and earthquake disaster prevention.
Often it is the case that a person gets involved in citizen movements as a result of a particular incident or opportunity. In Etsuko Abe's case, her daughter's primary school lunch (the movement to convert from mass production of school lunches at a central location, to small scale preparation of safe and delicious lunches at each school) was the decisive issue that led her down the path of environmental activism.
Meanwhile, her sister Kyoko Ono, who works with this author on local disaster prevention and natural environment preservation activities, first became involved in citizen movements at the time of the 'load following test' at Shikoku Electric's Ikata-2 reactor in 1988. At the time, she and other Ehime residents who wished to be free of nuclear power formed the Sayonara Nuclear Power Ehime Network, which continues its persistent work to this day.
Citizens living in prefectures with nuclear power plant sites have increasing reason to be nervous. Not only is there a Level A undersea active fault located near the Ikata Nuclear Power Plant, which could move at anytime, but a major earthquake in the Nankai Region is also forecast. Other issues of concern are nuclear disasters, aging nuclear reactors, repeated accidents, and plans to adopt the pluthermal program from 2010. Kyoko Ono and others of the Sayonara Nuclear Power Ehime Network, along with Assembly Member, Etsuko Abe, have adopted every means possible to stand up against the reality before them, including repeated demands to Shikoku Electric, petitions to the Prefectural Assembly, distribution of fliers on the street, and demonstrations on site at Ikata.
These sisters' way of living has taught this author to never turn away from reality and that nothing will change unless he himself takes action.
1. Pluthermal refers to the burning of MOX fuel (mixed oxides of plutonium and uranium) in thermal (as opposed to fast) reactors.
* Shinji Watanabe is Office Director of the Ehime Environmental Network and a member of the Toon City Assembly, Ehime Prefecture
Click here for other Nuke Info Tokyo Who's Who articles