Anti-Nuke Who's Who Hiraku Yamami of the Hinodeya Institute for Ecological Lifestyle Nuke Info Tokyo No. 149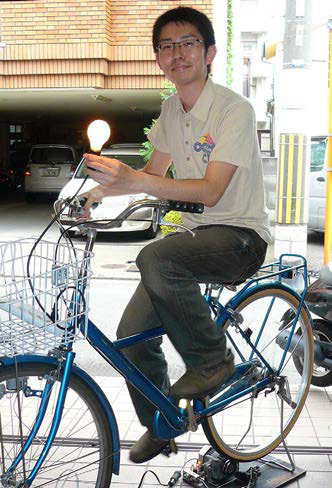 The pedal-power bicycle generator is lighting the lamp. Mr. Yamami is involved in the development of pedal power generators.
In spring 2002, Hiraku Yamami, at the age of 22, had his first direct contact with three organizations—the Takagi School, the Citizens' Nuclear Information Center, and the Society for Studies on Entropy–almost simultaneously. More specifically, he began to participate in the seminars and lectures held by these organizations in order to meet with the authors of the books he had read. He made many long day trips to the eastern or central regions of Japan, where such gatherings were organized, from his hometown of Nara City, located in western Japan. The frequent participation of the young man from a distant region must have been welcomed. Today, Mr. Yamami works for the Hinodeya Institute for Ecological Lifestyle  in Kyoto as a researcher, while engaging in his lifelong commitment to social action.
Mr. Yamami's main work at the institute is to promote energy conservation to small businesses and shops. "Even if a piece of machinery saves energy, people can increase energy consumption and 'trade-off' the reduction if neither society nor citizens understand the significance of energy conservation," he says. "For example, suppose nuclear power is completely replaced with natural energy. Will society be better in a real sense? If humans continue to consume prolific amounts of energy, as we do today, our society will eventually collapse. Unless people's attitudes change along with changes in energy, the problems we have today will emerge again."
Regarding the March 11, 2011 disaster, Mr. Yamami says firmly: "Our society will break down unless we steer it in a different direction now. We must change."
As a schoolchild, Mr. Yamami loved science. "Technology is really wonderful!" He hoped to find a job related to technology in the future. As a senior high school student, he had an experience that swayed his trust in technology. In class, he participated in a debate about whether recycling PET bottles was good or bad. "If it is technically possible to recycle the bottles, it should be promoted positively," he argued. He was met by counterarguments such as: "Who will pay the recycling cost?" and "If we can recycle the bottles, can we use PET bottles limitlessly?" After this experience, he became able to examine issues from many angles, including social viewpoints, not only technological ones.
"Technology may not be the universal solution." About the time he had this experience, Mr. Yamami started to think of technology from a critical point of view. In response to his questions, his father recommended books by Jinzaburo Takagi. The process of trying to find something that might undermine the values of science and technology he loved, such as learning about the negative aspects of nuclear power generation, must have been a tough task that consumed a great deal of physical and mental power for a susceptible youth, who was lost, confused and puzzled.
Since then, Mr. Yamami has been placing importance on the point of view of citizens and on fostering approaches that are accessible to all. "I believe we can make our lives richer and even more joyful by using less energy than we do today. In the future, I'd like to see more people getting involved with energy-saving opportunities." he says firmly.