Report on the 16th No Nukes Asia Forum Nuke Info Tokyo No. 163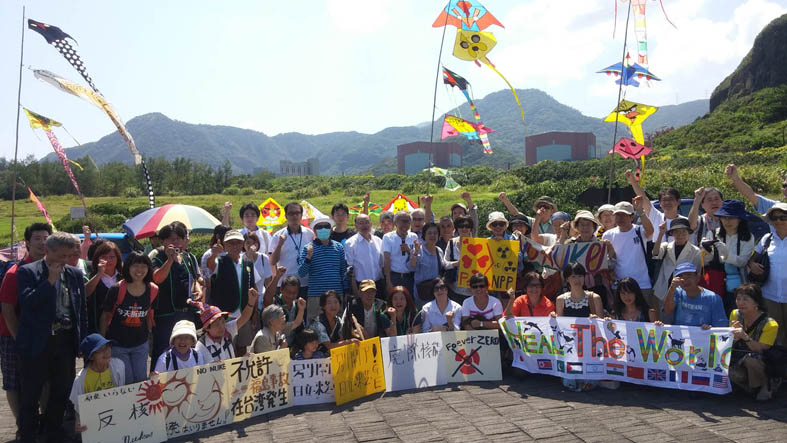 In front of No.2 Nuclear Power Plant in Taiwan
The No Nukes Asia Forum (NNAF) was held on Taiwan from September 26 to 29. NNAF is an annual conference held by a network of Asian NGOs who are fighting for a nuclear phaseout. Two hundred participants from eight countries, Mongolia, South Korea, Japan, Hong Kong, the Philippines, India, Turkey and Taiwan, took part in this 16th NNAF meeting. Mr. Ban and this writer took part from CNIC and reported to the meeting on the current state of Japan's nuclear power policy.
In the meeting, reports on accelerating nuclear power plant construction in Asia were heard and the many kinds of citizen efforts to oppose these were introduced, reconfirming the importance of international exchanges at the grassroots level. In particular, there were extremely  disturbing reports on the current situation in India and Turkey, to which Japan is attempting to export nuclear power stations, and from Mongolia (see p.2), which is being targeted as a supplier of mineral resources.
The host country, Taiwan, gave numerous reports based on the experiences of the intense citizens' movements that took place in close succession in March this year with regard to opposition to nuclear power and resistance against the Taiwan-China Cross-Strait Service Trade Agreement. I think we have a lot to learn from these, especially from the new-style activities of the youth, represented by the Sunflower Movement, and the mutual relationship between these youth activities and the hardworking efforts of the citizens' movement in the background.
The conference participants visited the mass movement resource center, sponsored by the well-known Taiwanese democracy activist Lim Gi-hiong (formerly President of the Democratic Progressive Party). Visits were also made to the No.2 and No.4 Nuclear Power Plants and to Lanyu Island (Orchid Island).
(Hajime Matsukubo, CNIC)