Group Intro: Nara No Nukes Network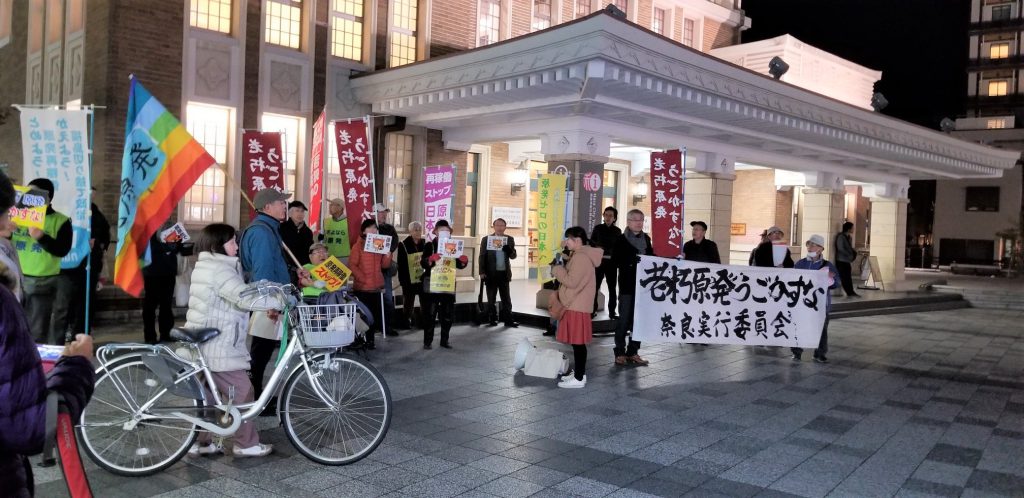 By Hotta Mieko, Nara No Nukes Network Co-ordinator
Nara City is my hometown. I established Nara No Nukes Network after the Chernobyl disaster in 1986. When it occurred, I was raising my two children, then six and four years old, without knowing anything about nuclear power generation; I did not even know that such a thing existed, and it was out of the blue to me that the radioactive substances emitted by the disaster that occurred 8,000 kilometers away from here could contaminate local tea leaves beyond specified limits. I started studying about nuclear power plants with friends who were raising children like me.
I then found that Nara City was only 100 kilometers away from Wakasa Bay, which is the so-called Ginza of Nuclear Power Plants, where many nuclear facilities are built close together. Our movement at first did not attract many people, because it was incomprehensible to locals why an anti-nuke movement was necessary in Nara, where there is no nuclear plant. We humbly continued such activities as photograph exhibitions and film-screening events, for which we selected films that showed the danger of nuclear power plants. We also supported and communicated with Chernobyl victims.
The March 2011 Fukushima Daiichi nuclear disaster drastically changed the attitude of people in Nara toward nuclear power plants. Anti-nuke groups were established in seven regions in Nara Prefecture. A new organization, Sayonara Nukes Nara Prefecture Network, was also established, of which the Nara No Nukes Network is a member. We extended the range of our activities to learning sessions, lecture gatherings, and opinion exchange gatherings with the Nara prefectural administration about energy policy.
Our movement grew into "Nara No Nukes and Victim Support Group," which aims to realize freedom from nuclear plants and to support Fukushima disaster victims. In March every year, we organize a gathering and walk in front of Japan Railways Nara Station.
The current mission of our movement is to stop the restart of the nuclear plants aged over 40 years located on Wakasa Bay. We are committed to achieving this target together with citizens across the neighboring Kansai area.
While we are disappointed with Japan's energy policy, for the sake of future generations we cannot give up our movement. We hope to attract as many people as possible to continue action against, and for independence from, nukes, while acquiring more knowledge and working together with allies.