Anti-Nuke Who's Who Hiroyuki Kawai Nuke Info Tokyo No. 154
Lawyer Fighting to Shut Down All Nuclear Power Plants in Japan
"We will continue to fight the nuclear village until we win."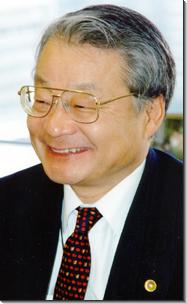 Mr. Hiroyuki Kawai
Hiroyuki Kawai was born in 1944 in the former Japanese colony of Manchuria in northeast China. After graduating from the Faculty of Law, University of Tokyo, he began to practice law in 1970. Today he is president of Sakura Kyodo Law Offices, Tokyo. As a lawyer specializing in business cases, he is active in bankruptcy cases and inter-company lawsuits. He has also been active in social contribution activities, such as assistance to Japanese wartime orphans who wish to move from China, where they were left behind, to Japan, and who hope to become naturalized Japanese citizens.
After the Chernobyl nuclear accident, Mr. Kawai became acquainted with the late Jinzaburo Takagi, who is one of the founders of Citizens' Nuclear Information Center (CNIC), and acquired a belief that nuclear power plants are the greatest destroyer of the environment. While absorbing knowledge at CNIC and learning at the Takagi School, Mr. Kawai became actively involved in the anti-nuke movement. In cooperation with a close lawyer friend Yuichi Kaido, a leading expert in lawsuits against nuclear power plants, Mr. Kawai began to fight to shut down nuclear power plants through the courts by involving himself in lawsuits against Hamaoka nuclear power plant in Shizuoka Prefecture and against the Ohma nuclear power plant project in Aomori Prefecture.
After the March 11, 2011 disaster, Mr. Kawai became even more active in anti-nuke activities. He established the National Network of Counsels in Cases against Nuclear Power Plants, which consists of lawyers who have fought against nuclear power plants across the nation. The network has now filed lawsuits against almost all nuclear power plants in Japan. He also serves as the leader of the counsel group for the shareholders of Tokyo Electric Power Company (TEPCO), who claim compensation of 5.5 trillion yen, the largest compensation claim in Japanese history. For the Fukushima Nuclear Disaster Criminal Complainants Group, which pursues the responsibility of alleged wrongdoers, including TEPCO executives, in the March 11 accident and ensuing damage, he serves as the attorney representing 14,716 complainants. At rallies and gatherings against nuclear power generation, he captures the attention of people as a fascinating speaker. Furthermore, believing that Japan as a state should steer toward independence from nuclear power, he works as the representative secretary to the National Network for the Legislation of the Nuclear Power Generation Abolition Law. He is thus actively rushing around day in and day out to realize a society independent of nuclear power generation.
His schedule is extremely tight and timed by the minute. He attends multiple meetings a day on anti-nuclear activities, appears in the courts, and responds to interviews by mass media and small independent media, treating all media equally. "To shut down nuclear power plants, I would even collaborate with the devil." Saying so, he deftly meets with various people, well-known or unknown, and visits various places, ignoring the concerns of the people around him. Handling business cases as well, he is extremely busy and has virtually no days off. However, he is an extremely cheerful and positive person and says, "I am enjoying my life now more than ever!"
Even with his very tight schedule, he does not give up on his many interests, including riding a three-wheeled Harley-Davidson, traditional Noh plays, and group singing. He appears at the office in kimono at the New Year and in yukata in summer. He sometimes appears in jeans.
Mr. Kawai sometimes makes unreasonable demands on people around him, surprising and bothering them. Because he makes phone calls at all times, even late at night or on holidays, he tends to be taken as self-centered or short-tempered. However, he is liked both by citizens and by the staff of his office. This is because he is innately cheerful and forgetful of anger, thinks positively, and always works seriously and honestly.
His current opponent is the Japanese nuclear village. It is a gigantic profit-making structure occupying 60% to 70% of the Japanese economy, consisting not only of electric power companies but also of general construction companies, banks, trading firms, manufacturers, mass-communication companies, researchers, and politicians. However, Mr. Kawai says: "We will never give up however many times we lose. We will continue to fight until we win."
Encouraged by the powerful stance of Mr. Kawai, we individual staff members who support him intend to continue to fight against nuclear power generation from our respective standpoints.