Anti-Nuke Who's Who Kazuyoshi Sato: calm, but tenacious Nuke Info Tokyo 117
By Michiko Furukawa*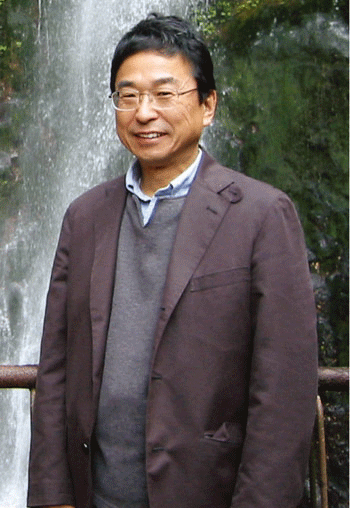 Kazuyoshi Sato was born in 1953 in Naraha Town, Fukushima Prefecture. Naraha is the site of Tokyo Electric Power Company's (TEPCO) Fukushima II nuclear power plant.He passed his elementary and middle school days the same as any other child, although apparently when he was a little boy he played mainly with girls.
He went to High School in neighboring Iwaki City and it was during those years that he became involved in the movement against construction of the Narita Airport. As a result of his participation in the movement, he was suspended for playing truant from school. He protested the injustice of the decision, but was expelled for his troubles three months before graduation.
For ten years, from 1972 to 1982, he fought the decision in the courts. He demanded that the decision to expel him from school during those impressionably years be reversed. In the end the case went to the Supreme Court, which ruled against him. Such an unjust decision might seem unthinkable now, but that was the way things were in those days.
Perhaps the tenacity with which he engages in issues now, not yielding to anyone no matter how powerful they may be, was cultivated in those days.
He first became involved in nuclear energy issues in 1973, during a hearing in regard to construction of the Fukushima II power plant. In 1988 he helped to establish the nuclear phase-out network, and he still carries on the struggle to this day.
The previous governor of Fukushima Prefecture opposed the government's nuclear energy policy. On a national level he was a governor whom we could be proud of. It would be no exaggeration to say that it was Kazuyoshi's determined anti-nuclear activism that set him straight.
Kazuyoshi is also involved in other issues, such as citizen-based environmental campaigns dealing with the problems of electro-magnetic radiation and the disposal of radioactive waste.
He won a seat on the Iwaki City Council in 2004. His number one campaign promise was, "I will prevent nuclear accidents and environmental pollution." These days his duties as a city councilor keep him very busy, but he never misses the monthly negotiations with TEPCO.
He doesn't give the impression of being a fervent person. During his activities as a city councilor, or in his negotiations with TEPCO, he always remains calm, but his penetrating questions go to the core of the matter.
He might not be fervent, but he is persistent and consistent. He is quick off the mark and when it comes to researching a point, he doesn't do things by half. To observe his activism is to be filled with admiration. In fact, watching his relentless work program one worries about his health.
Despite being such a busy person, he loves to go walking in the country-side, stopping along the way to eat some of his wife's delicious home-made food, or to spot kingfishers speeding along country streams. And he loves to sing songs with his friends. He truly is a very gentle man.
* Michiko Furukawa is a member of the Phase-out Nuclear Energy Fukushima Network.
Click here for other Nuke Info Tokyo Who's Who articles