Group Introduction Osaka Citizens Against the Mihama, Oi and Takahama Nuclear Power Plants Nuke Info Tokyo No. 133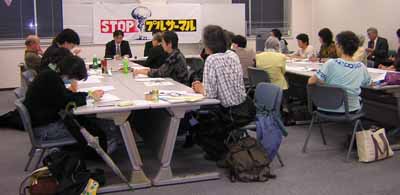 Negotiations with the Nuclear Industrial and Safety Agency (NISA) about
MOX fuel quality control problems (October 7, 2009)
The Osaka Citizens Against the Mihama, Oi and Takahama Nuclear Power Plants is made up of citizens of Osaka and surrounding regions. The head office of Kansai Electric Power Company (KEPCO), which owns these plants, is located in Osaka. The group was formed in 1991 after an accident at the Mihama-2 Nuclear Power Plant. Its aim was to close down KEPCO's nuclear power plants, some of which were aging dangerously. The name reflects that objective.The group's objectives were expanded after an incident in 1999. In that year KEPCO attempted to begin its pluthermal program, but along with Green Action we exposed data falsification by BNFL in relation to fabrication of fuel pellets. Citizens of Fukui Prefecture (where KEPCO's nuclear power plants are located) and the Kansai region launched a lawsuit, which led to the suspension of KEPCO's pluthermal program. We then become involved in opposition to pluthermal throughout Japan. At the moment we are working with people in Saga Prefecture to stop the pluthermal program at Kyushu Electric's Genkai-3 Nuclear Power Plant.
In the present urgent situation we are focusing on problems with the disposal plan for spent MOX fuel and especially with the quality of the MOX fuel itself. In August, KEPCO determined that fuel pellets for 4 of the 16 fuel assemblies that it had ordered from the Melox plant in France failed its own tests and consigned about 340,000 pellets to the scrap heap. However, Kyushu Electric closed the lid on the issue. It went ahead regardless, loading MOX fuel into its Genkai-3 reactor on October 15 and beginning start-up tests on November 5. Our group is working in close solidarity with people from Saga and Fukuoka Prefectures, helping them with the content of their campaign. At the same time, we are continuing our campaign against the introduction of pluthermal to KEPCO's Takahama-3&4 plants.
As a natural corollary of our opposition to pluthermal, we have expanded our focus to include opposition to the Rokkasho Reprocessing Plant. The plant's vitrification process is in total disarray and active testing is on hold. Japan Nuclear Fuel Ltd. (JNFL) announced an extended delay to next October for completion of the testing phase, but the effects of a large-scale leak of nitric acid solvent are very serious. JNFL has also failed to solve the fundamental problem of platinum group elements blocking the vitrification furnace. Restart of the plant is utterly impossible. We are campaigning for cancellation of the active tests and of reprocessing itself.
In regard to our core mission of shutting down KEPCO's nuclear power plants, we became involved in issues arising from the 2004 Mihama-3 accident, holding negotiations with KEPCO and the government on numerous occasions. As KEPCO's nuclear power plants grow older, the danger continues to increase from shoddy management which gives priority to economics. In our negotiations with KEPCO and Fukui Prefecture we are always looking for information that exposes the true state of the nuclear power plants. By specifically identifying the dangers, we hope to gain the public's attention and to bring about the closure of aging plants.
Besides these issues, we are involved in support for the JCO lawsuit. We are also carrying out public relations activities opposed to the promotion of nuclear energy as a solution to global warming and informing people about the fact that the so-called nuclear renaissance is a failure.
*Taku Hashimoto is a member of Osaka Citizens Against the Mihama, Oi and Takahama Nuclear Power Plants.