Group Introduction Fukushima Nuclear Disaster Criminal Complainants Group Nuke Info Tokyo No. 150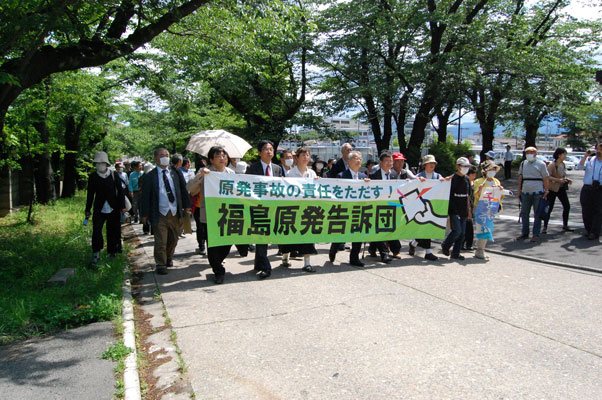 The Fukushima Nuclear Disaster Criminal Complainants group was established on March 16, 2012, just one year after the occurrence of the Fukushima Daiichi nuclear disaster. Because the Japanese police and prosecutors have showed no sign of initiating a criminal investigation into this disaster, we decided to file a group lawsuit to criminally prosecute those responsible for causing the disaster and for allowing the damage to expand, and began to call on others to join our group. We received enthusiastic responses from within Fukushima Prefecture, where the anxiety of the people has no end in sight as the nuclear disaster continues to unfold, as well as from many other areas where Fukushima evacuees are living. On June 11, 2012, 1,324 complainants from Fukushima presented a letter of accusation to the Fukushima District Public Prosecutors' Office. The letter accuses Tokyo Electric Power Company board members, specialists at the Nuclear and Industrial Safety Agency and the Nuclear Safety Commission of Japan, both of which have been associated with Japan's nuclear administration, and many others, for involuntary manslaughter and bodily injury resulting from professional negligence under the criminal code, violation of the environmental pollution offense law, and the crime of causing explosions as a result of professional negligence. (It is legally impossible to file a complaint against reactor producers for product liability.)
We are planning to bring a second lawsuit in November 2012 with many of those who have suffered from the disaster, whether from Fukushima or from other areas, and are opening offices nationwide in preparation for this.
Ruiko Muto, the leader of this group, says: "What we are aiming at through these lawsuits is to create a society where no individuals are forced to sacrifice themselves, to restore the links between us that have been cut off by the disaster, and to enable the victims, who are hurt and feel completely powerless, to recover their dignity. Achieving these aims is our responsibility for the sake of the children and youth." She also indicates: "How unreasonable it is that Tokyo Electric Power Company, which caused the disaster, has created the standards and limits for compensations, and demands that those who suffered from the disaster should abide by them! And how dishonestly the word 'unexpected'  is used to evade responsibilities! We hope that by reading the statements of facts written by the complainants, those who are evading responsibility will come to have a deep understanding of how much pain people from Fukushima have been forced to suffer.
The Fukushima Nuclear Disaster Criminal Complainants office regrets that it has been unable to release announcements in languages other than Japanese. Anyone who wishes to join the group as a complainant will be required to fill out documents in Japanese, including a letter of attorney, in which the reading of his or her name should be indicated in Japanese kana letters, and to send the membership fee of 1,000 yen to the group's Japan Post Bank account. Please let us know if you live or lived in a heavily damaged area and need multilingual assistance.
Documents can be downloaded from bit.ly/PWUyH8.
Our Japan Post Bank transfer account number: 02260-8-118751
Name of account: Fukushima Gempatsu Kokuso-dan  (福島原発告訴団)
Email: 1fkokuso@gmail.com (Please note that it may be necessary to wait a few days for a reply.)
Sending letters and statements requesting prompt and strict investigation of criminal  negligence in the nuclear disaster to the Fukushima District Public Prosecutors' Office and other authorities concerned will influence prosecutors, and we would appreciate very much your sending such letters and statements. The prosecutors are able to read Japanese and English.
Please address such letters or statements to: Fukushima District Public Prosecutors' Office, 17, Kitsune-zuka, Fukushima-shi, 960-8017, Japan.
You can also submit opinions by using the opinion submission form available at the Fukushima District Public Prosecutors' Office website at bit.ly/RyepkB.