Anti-Nuke Who's Who Yuichi kaido: A reliable ally for the anti-nuclear movement Nuke Info Tokyo No. 81
Anti-Nuke Who's Who
Yuichi kaido: A reliable ally for the anti-nuclear movement
By Yasuko Yamaguchi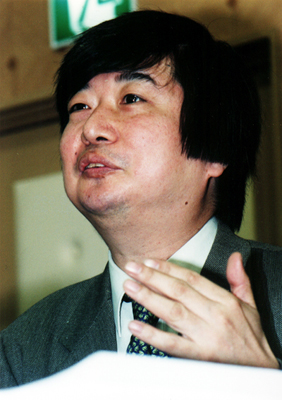 The announcement by the Taiwanese government that it will scrap plans for the Fourth Nuclear Power Plant shows that nuclear phase-out is gathering momentum not only in the West but in the world at large. Yet Japan's revised and newly adopted Long-Term Program for the Research, Development and Utilization of Nuclear Energy encourages the reprocessing of nuclear waste and the restart of the Monju Fast Breeder Reactor (see News Watch p.12). Against this background, at its Convention on the Protection of Human Rights on 6 October 2000, the Japan Federation of Bar Association adopted a 'Resolution seeking for a change of energy policy Ñü from the dependence on nuclear power towards the discontinuance of nuclear power generation (see News Watch p.12).' This is a very bold and heroic action, and sure to be welcomed by everyone whose concern over accidents at nuclear sites has led them to dream of a nuclear-free society in the not too-distant future. The attorney Mr. Yuichi Kaido is one of the significant members who made efforts to adopt this resolution.
Mr. Kaido is not just an active member of the Bar Association, but the source of much encouragement as the attorney for plaintiffs in many court cases on nuclear issues like the MOX case and the Group of Ten Thousand Plaintiffs' Lawsuit to Stop the Nuclear Fuel Cycle. He is an even-tempered person, but in court he identifies the points at issue with admirable vigour.
He is very reliable, not only as an attorney but as a supporter of citizens working toward nuclear phase-out, for the reason that he has good relations with members of the Government party as well as members of Opposition parties such as the Social Democratic Party, the Democratic Party of Japan, and the Japan Communist Party. He also keeps in touch with many people around the world. These human networks deepen the ties between Diet members and grassroots movements, and give us activists a chance to share information from the world. For instance, at the meetings between Diet members and citizens, he is very effective as a facilitator in drawing out members' opinions on given issues. This, I think, is the fruit of his efforts in lobbying at the Diet. His visit to the Nuclear Regulatory Commission in the U.S. also contributed substantially to our movement for the independence of the nuclear safety regulatory administration. Still, the reality is that the government is reluctant to transform its nuclear energy policy into a strategy for nuclear-free power, and is resisting pressure to strengthen nuclear safety regulations. This obliges Mr. Kaido to canvass even more energetically.
Mr. Kaido became concerned with the issue of nuclear power in his university days, at the time of the Three Mile Island Accident. I have heard that he learned from the late Dr. Jinzaburo Takagi and others in 'Jisyu-Koza.
* Now Mr. Kaido is one of the board of directors of CNIC, which Dr. Takagi founded.