Anti-Nuke Who's who: Tomi Maeda Nuke Info Tokyo No. 93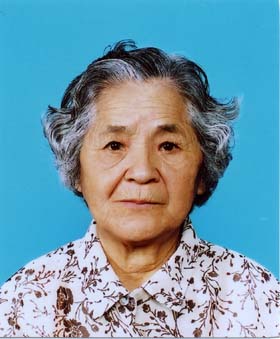 Ms. Tomi Maeda, 77, years old woman, has been vocal opponent of the Sendai nuclear power plant in Kagoshima Prefecture and has been involved in the Mothers' group against the nuclear power plant since 1973. She is still quite active and frequently attends protest meetings wherever they are held. 'I will make every effort to fight against nuclear power to protect out future children,' she said. Her words are strong and there is no exaggeration in her speech at all.
She is a gentle old lady, living in a rural area. She resides in a simple straw house several hundred meters from the Sendai nuclear plant.
She was born on December 8 1925. When she was a child, she liked studying, especially writing. Composition was her favorite subject, but she never entered a junior high school because she would have been ashamed. It was not what Japanese women of her societal status were expected to do. Instead, she attended a Youth School where her talent was recognized, she was recommended for certification for a temporary teaching position at the school.
Her anti-nuclear stance originated in her experience of the war. On the day of her 17th birthday, the Japan-America war began; she decided to take an entrance examination for the Japanese Red Cross nursing school to participate in the 'holy war.' But her brother, always caring about her, was conscripted for the army and died for the war. Many people around her bought a national loan without any second thoughts, which after all became worthless pieces of paper.
All of her personal experience helped her to understand the deeply-rooted nature of the problem when a nuclear power plant emerged near her homeland Sendai some 20 years after the war. She was more shy than anyone else, sympathetic to all was oriented by her strong mind toward social justice and had a brilliantly clear head. These characteristics remain with her even now. She writes letters filled with her heartfelt voices, conveying to the reader her essential will. When it comes to nuclear, society, and politics, she employs accurate and pragmatic words, words which could only came from a polished and intellectual mind, and which express her long-accumulated thoughts and emotions. Anti nuclear activity for her does not mean agitating in a loud voice in front of crowds. Instead, she writes a letter filled with her own word to convey to the reader of her most heatfelt beliefs.
Every day since 1994, she has written letters protesting against nuclear power plants to the Prime Minister, the Minister of Economy, Trade and Industry, and the director general of Kyushu electric power company. Every now and then, she finds a spot of time to write such a letter and look for the nearest post box. However, when the official office of the Prime Minister moved, one of her letters was returned as there were no recipient found. The office of the Prime Minister finally comes to be regarded as an ordinary house for postal delivery services, she said and laughed.
For those reasons, I truly understand from the bottom of my heart that what governs this country is not the Prime Minister but the unanimous citizens. 'A wise country does not need nuclear power. Please reconsider now for the future of the earth, it is extremely worrisome for us to think about Japan. My 'anti-war,' 'peace,' and 'anti-nuclear waste' messages are all my expressions of my love for my home country and our local livelihood.'