Anti-Nuke Who's Who: Kaori Kanda: A Storyteller who continues to tell the story of the Chernobyl accident Nuke Info Tokyo No. 97
By Mamoru Fukae (Kyushu Denuclearization Network)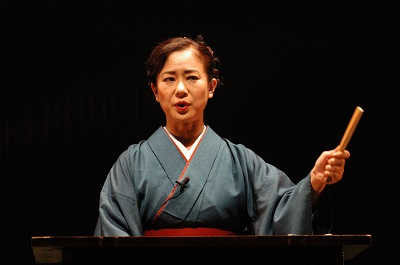 17 years have passed since the nuclear accident at Chernobyl, which sent shock waves around the world. While the tragedy of the accident is being eroded from people's memory bit by bit, one person keeps the memory alive by telling the story of Chernobyl: that is a storyteller, Kaori Kanda. Her sad tale about a fireman and his wife appeared in Suetlana Alexievitch's Chernobyl's Prayer, which was translated and published last year by Iwanami Shoten. The wife, Lusha (Ludmila), has to observe how her beloved husband becomes a "living reactor" and turns into a shadow of his former self. Hiding her pregnancy she nurses her husband devotedly. Listening to this sublime love story, the reality of Chernobyl draws in.
Born in Iwaki-city, Fukushima Prefecture, where many nuclear power stations are crowded together, she aimed at an acting career after graduating from High school and enrolled at an acting school in Tokyo. After leaving the school she started studying storytelling as one of the theatrical arts from Sanyo Kanda. She became associated with the Storyteller association and began her opening performance. It was 22 years ago. After finishing her training opening performance, she was promoted to the next rank futatsume in 1984. To celebrate her promotion, she went to Saipan, where she encountered the "war." American military tanks were left as they were in the coral reef; a pillbox was left in the jungle with a bullet hole . The Banzai Cliff, from which thousands of people, who couldn't bear to live anymore, jumped to their death. Standing there, she decided to take up "war" as her personal theme. She visited Okinawa, Hiroshima, and Nagasaki and read the cartoon Comic – Barefoot Gen*, which she bought at the Hiroshima Peace Memorial Museum. In August 1986 she announced a story of Barefoot Gen for which she received the Japan Variety Knowledge Award. After that she continued to develop her own, unique style by adding Jazz and monodrama elements. Her newest piece Chernobyl's Prayer also uses musical and light effects producing a three dimensional story, which reminds one of a monodrama.
In July she performed her Chernobyl's Prayer–A Future Story at ten places in Kyushu from her caravan. In the world of storytellers the term Koza Hyappen exists. It denotes the phenomenon of putting the same material on stage repeatedly until it becomes part of oneself. The performer and her audience, who have the same aim, make up the piece together. Ms. Kanda incorporated the responses from the Kyushu caravan tour and says that she managed to finish her newest work Chernobyl's Prayer.
This country, which is rattled by earthquakes, has 52 nuclear power stations. Chernobyl's Prayer is our prayer. If we remain silent, it will become irretrievable. "The only thing I can do is to tell the truth, to make people imagine. I want to become a device which awakes imaginative power in people," hopes Mrs. Kanda, who continues to tell her Chernobyl's Prayer today.
*Barefoot Gen (Hadashi no Gen in the original Japanese) is an autobiographical story. It has drawn wide acclaim for its portrayal of an event as devastating as Hiroshima in the comic book form.