Toshiba gambles on Westinghouse Nuke Info Tokyo No. 111
On February 6th Toshiba and BNFL agreed on the sale of Westinghouse to the former for $5.4 billion. Of this, Toshiba will pay 51-53%. Negotiations are proceeding to secure investment from other engineering firms, nuclear power plant makers and businesses to make up the difference. However, at this stage no other investors have been confirmed.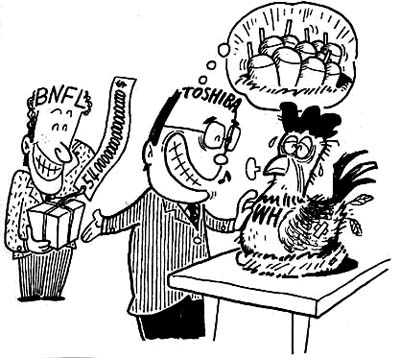 Cartoon by Shoji Takagi
Toshiba will pay 4.5 times the $1.2 that BNFL paid for Westinghouse in 1999. It seems far too high a price. As a result of the purchase agreement, Toshiba's stock value has fallen. One after the other, ratings agencies have downgraded its credit rating. Other than the large purchase price, another reason for this is that the nuclear power business has become less predictable. It has suddenly undergone a 180 degree shift from being seen as a "stable business area" to being seen as a "growth area".
Nevertheless, at the press conference on February 8th Toshiba's leader was ebullient. President Atsutoshi Nishida said that combining Westinghouse's world sales network and PWR technology with Toshiba's turbine technology and total plant design along with their construction capabilities would generate beneficial synergies for the two companies. He emphasized that by 2015 sales equal to the purchase price plus 10% profits could be expected for the combined companies. He said they would become a new global leader in the nuclear industry.
The basis for this assessment, according to Executive Director Masao Niwano, was the expectation that they would win orders for around one third of the 10-15 reactors planned by China, as well as over half of the 15 envisaged for the US. There would also be increased opportunities for maintenance of both PWRs and BWRs. He anticipates an increase of $2.3 billion from the US market, $0.3 billion from the Asian market, including China, and $0.2 billion from Europe.
Counting on expanded sales to recover the investment would seem to be a big gamble, when there isn't even any guarantee that existing sales can be maintained. President Nishida predicts that the world nuclear energy industry will expand to 1.5 its current size by 2020, but this is quite unrealistic.
Also, at the time of purchase Westinghouse has no plant construction capacity. Great expectations of US orders are not credible without AP1000, but is it really possible to advance an AP1000 project without the cooperation of Mitsubishi Heavy Industries (MHI)? MHI's President Takashi Nishioka said at a press conference on February 21st that it is difficult to understand why Toshiba would purchase Westinghouse. He criticized the price, saying that it couldn't be expected to pay off as a nuclear energy business. He rejected the possibility of teaming with Toshiba, saying that if MHI were to cooperate "we would collapse."
Hitherto all nuclear plant makers, including Toshiba, have been downsizing and cutting staff numbers, on the grounds that nuclear energy is a "stable business area". They haven't expected orders from within Japan and have regarded prime contracting for exports as impossible, because of the problems of nuclear fuel supply and nuclear proliferation. Talks had been proceeding about integrating the companies' nuclear divisions. It is said that Toshiba's outlandish behavior has confused the other companies.
Baku Nishio (CNIC Co-Director)