Chernobyl 20th Anniversary in Japan Nuke Info Tokyo No. 111
In September 2005 in Vienna the Chernobyl Forum released a report which estimated that around 4,000 people could have died or could die in the future as a result of exposure to radiation from the Chernobyl accident. (The Chernobyl Forum is an initiative of the International Atomic Energy Agency (IAEA), in cooperation with seven other UN agencies and the governments of Belarus, the Russian Federation and the Ukraine.)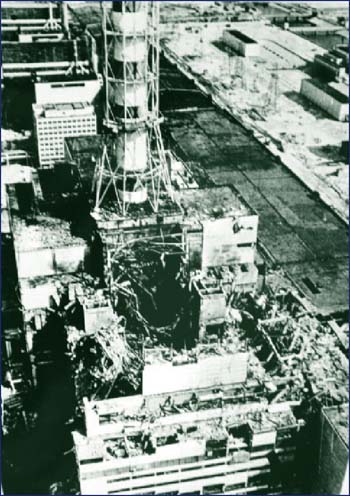 The burnt-out Chernobyl No. 4 reactor
(Photo from Chernobyl Forum Report)
The report only considers 600,000 of the people exposed to radiation from Chernobyl. It takes no account of deaths and other health effects to a further 6.8 million people living in 200,000 square kilometers of Europe which does not fall within the definition of "more contaminated areas" (above 555 kBq/m2 of Cs-137), but which is defined as "contaminated" (above 37 kBq/m2 of Cs-137). Apparently the report adopted the position that there couldn't be health effects from exposure to such low-levels of radiation. This conclusion is the result of an arbitrary interpretation of the medical effects of exposure to radiation exposure. It represents an extraordinary refusal to look at the totality of this nuclear accident.
In fact the report was an international publicity stunt by the proponents of nuclear energy. The purpose was to convey the message that, 20 years on, the health effects of the Chernobyl accident are not that great after all. This shows a callous disregard for the victims.
20th Anniversary Events
On March 4th CNIC held a public meeting entitled "20 years on, what we now know about the Chernobyl accident". The speakers were Tetsuji Imanaka and Katsumi Furitsu.
Tetsuji Imanaka is a researcher at the Kyoto University Research Reactor Institute. Along with researchers from the regions most affected by the Chernobyl accident, for many years he has been doing research into the nature of the accident and its effects on human beings. In October 2004 he started a project entitled, "Multi-faceted approach to elucidating the truth of the Chernobyl accident: 20th anniversary as an opportunity to collate the damages caused by the accident". The project investigates the Chernobyl accident from the perspective of victims, journalists, NGOs, scientists and social scientists. He reported that the conclusions of this project are completely different from those of IAEA et al mentioned above.
Katsumi Furitsu is a doctor who, as a member of an NGO named Chernobyl Hibakusha Relief Kansai, has been involved in providing relief to the victims of the Chernobyl accident. She gave a report on international conferences, including last September's Chernobyl Forum.
Around 80 people attended the meeting and there was a lively discussion after the speakers' presentations.
On April 16th a symposium will be held entitled "20 years after the Chernobyl Catastrophe – What happened and what continues now?" The keynote speaker will be Yuri Shcherbak, a doctor, author and former Ukrainian Ambassador to the US. Ukrainian singer and harp player, Oksana Stepanyuk, will give a musical performance. A panel discussion will include photojournalist Ryuichi Hirokawa, Katsumi Furitsu and Tetsuji Imanaka. There will also be a video and an exhibition of pictures by Chernobyl children and photographs. (Click here for more details.)
Mikiko Watanabe (CNIC)