While More Nuclear Power Plants Are Planned in South Korea, the High-voltage Cable Tower Project in Miryang Is Becoming Increasingly Controversial Nuke Info Tokyo No. 151
by Satoshi Takano *
Awareness of the controversy spreads due to local resident's suicide by self-immolation in January
Now that the Kori 1 reactor has been restarted, on August 6, 2012, the hottest nuke-related issue in South Korea is the high-voltage cable towers under construction in Miryang, South Gyeongsang Province. The Korea Electric Power Corporation (KEPCO) plans to build 765 kV cable towers to connect the Shin-Kori Nuclear Power Plant with northern South Gyeongsang Province . Over the total distance of 90 km, 162 towers, each 100 m in height, are planned at intervals of 500 m.
According to KEPCO, the purpose of this project is to supply power stably to North and South Gyeongsang Provinces; the company intends to transmit the power generated by the Shin-Kori 3 and 4 reactors, now under construction, and Shin-Kori 5 and 6, now in the planning stage, to big cities.
As this project has unfolded itself, the resistance of locals in one of the regions in which towers are planned has been extremely strong since 2005, when the company began to select tower locations. The region is Miryang, South Gyeongsang Province, where 69 towers are planned within the city limits. The locals are demanding the discontinuation of the tower construction for the reasons that the construction will destroy their life, that the project is based on an overestimation of power demand, and
that electronic radiation from the towers will result in negative influences. The resistance movement has since become more comprehensive and today it demands that the construction of the Shin-Kori reactors, which is the fundamental reason for the tower construction, be cancelled.
Resistance further intensified in September 2011, when local elderly people started to obstruct the construction directly by digging pits in the mountain where the towers were being built and maintaining a 24-hour resistance by having three groups of people rotate in four shifts a day.
Regretfully, however, it was a tragic event that called this resistance to the attention of the public. On January 16, 2012, in Bora Maul , Miryang, Chee-woo Lee committed suicide by setting himself on fire. After this tragedy, KEPCO temporarily stopped construction work, and the controversy became a focus of interest
among the South Korean population, especially environment conservation groups. On February 1, the Self-immolated Chee-woo Lee Remembrance Committee Opposing the 765 kV Cable Towers was established, consisting of more than 150 citizen groups and other organizations. It has been leading the resistance actions to date.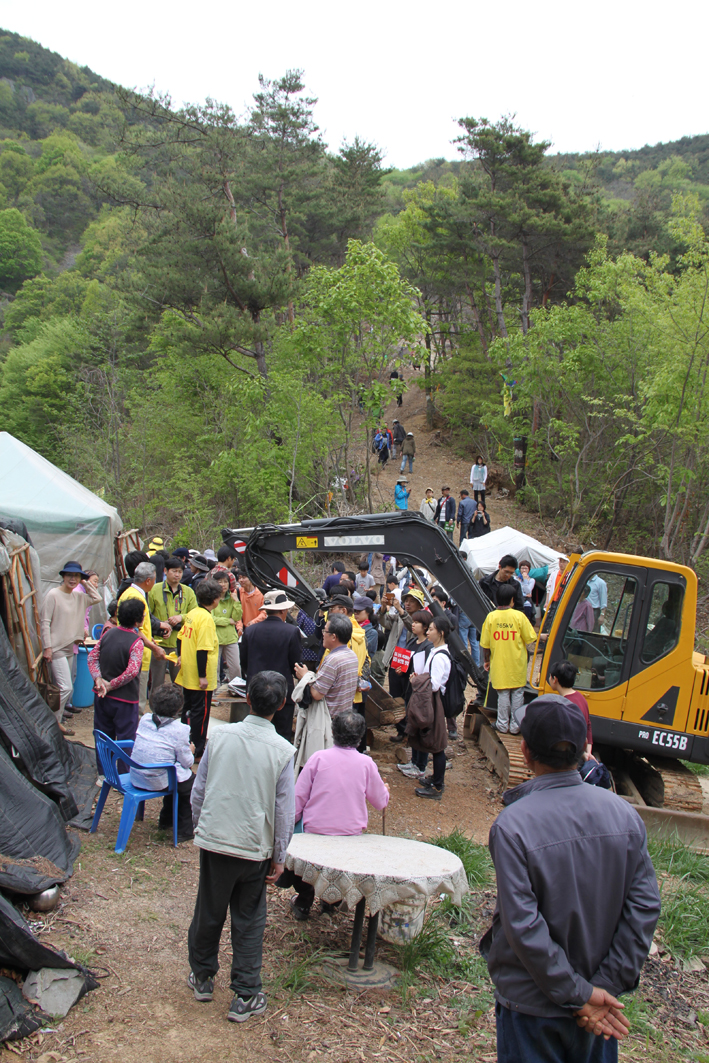 Protest movement against the High-voltage Cable Tower Project

City residents show support by visiting Miryang on a Hope for No Nukes bus tour
Citizens from big cities such as Seoul, who had shown no interest in this controversy before, visited Miryang on the first Hope for No Nukes bus tour on March 17 and 18. A cultural festival commemorating Mr. Lee was held with the participation of 1,300 people and young trees were planted on the ground where the
construction was planned.
The second bus tour, in which I participated, was organized on April 27 and 28. The view of the actual resistance site was breathtaking. Because the construction was planned in the mountains, we needed to walk quite a long distance. The dump trucks that had been used for construction were left unattended. There were small tents nearby, in which people were staying. Old beds, meager food, and daily needs such as candles were scattered around inside the tents, where no electricity was available. All those I came across there were senior citizens, all of whom seemed to be over 70 years old. It was difficult for me to believe that these elderly people were maintaining their resistance in such a difficult place.
According to an elderly woman, the villagers formed groups of a few dozen people each and took turns to come and protect the tents. She said that it took about one hour to walk there from their homes. I also heard that there were several more resistance locations in Miryang. I wondered how the elderly, who looked weak at first glance, could have such great energy to fight and resist. I was moved to tears as I listened to their story.
Miryang residents visit the National Assembly and attend a meeting to give statements of evidence
In July, possibly in fear of further expansion of the citizens' coalition, KEPCO reacted contemptibly by suing three locals, claiming damages amounting to 1 billion won (about 900,000 US dollars). KEPCO also made another violent move by filing a provisional injunction against 13 locals, seeking a compensation of 1 million won (about 900 US dollars) for each day the construction was delayed due to the "obstruction." KEPCO also resumed construction work, which had been suspended.
In response to these brutal actions, a dozen Miryang locals visited the National Assembly Building in Seoul on July 23 to attend the Miryang Cable Tower Construction Sufferers Statement Meeting, organized by the Democratic United Party and Unified Progressive Party, to deliver statements of evidence regarding the violent behavior of KEPCO and the construction companies, which were trying to proceed with the construction forcibly.
"Twenty construction company employees broke into the barricade of an elderly woman," said a woman, who was 65 years old. "They twisted her arm and dragged her around. They also broke into my place and I tried to grab hold of the bed as a barricade to stop them getting to me, but 15 employees dragged the bed away, injuring me and many other locals. We had to be taken to the hospital." A man, 72, stated: "When we tried to prevent construction workers cutting down trees, the argument became violent and many locals had their slacks or shoe soles cut by electric saws. The workers insulted us as if we were dogs."
A nun in her 50s, who was unable to attend the meeting, experienced a sexual assault. She was hit in the genitals by the manager of the construction site and lost consciousness. She was sent to the hospital by helicopter and hospitalized for two weeks. While she was in hospital, the manager visited her and said: "I
will kill you next year for sure."
Why could such brutal behavior be perpetrated on the elderly, who merely wish to live peacefully on the land where they have their roots? If there had been no nuclear plants, such tragedy would not have occurred. The electric power supplied by use of the towers will be used by city dwellers. It was certain that all of those who attended the meeting understood this discriminatory reality.
Resistance and coalition expand further
In August, the resistance became more intense. On August 1, people set up tents in front of Miryang City Hall to maintain a 24-hour presence there. Resistance tents were also set up in front of the KEPCO Miryang branch and Miryang dam helicopter yard (from where construction materials are sent to the construction sites). Citizens' organizations, university students, and conscientious politicians are joining the local residents at the center of the resistance, expanding the civil coalition with strength and solidarity.