25 Years after the Chernobyl Nuclear Accident Nuke Info Tokyo No. 142
Welcoming to Japan a guest who still lives within the highly polluted region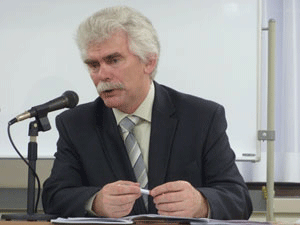 25 years have now passed since the nuclear accident at Chernobyl. The Japan Congress Against A- and H-Bombs (Gensuikin), the Consumers Union of Japan, Femin Women's Democratic Club, and CNIC jointly established a 'Coordinating Committee for the Chernobyl Campaign' to invite a person affected by the Chernobyl accident to come to Japan to give a series of talks to citizens all over the country. The guest who was invited was Mr. Vdovichenko Pavel, who lives in Novozybkov in the Bryanskay region of Russia.
Novozybkov is 180km from the Chernobyl NPP and 400km from Moscow, and at the time of the accident was polluted with radioactive material at average of 17 curie/km2. Even after countermeasures such as turning over the soil, the average is still 15 curie/km2 today (1 curie = 37 billion becquerels). The people should have been relocated, but issues such as a lack of relocation funds and the presence of senior citizens have resulted in many people continuing to live in the area. Mr. Pavel and his friends and family also chose to live in Novozybkov and started up an NGO called "Radimichi – Children of Chernobyl" (xn--80aimaawy5d.xn--p1ai/?gtlang=en). As aid did not reach the city from the government and the best doctors and teachers left the area, Radimichi collaborated with German doctors and began to carry out a range of positive activities for the community such as thyroid gland checkups, rehabilitation for the disabled, day care services for senior citizens, youth circles, summer camps for children away from the polluted area, and so on.
Of the population of 45,000 at the time, 5,000 people left the city following the accident, many returning because they were unable to endure the discrimination in the area to which they relocated. The population of Novozybkov is now 42,500. However, even today, 25 years after the accident, life there is still hard. The once-thriving industrial manufacturing and agricultural processing plants have pulled out, and new companies have not come in. The agricultural produce of the area has not been able to regain its competitiveness. Since the agricultural produce, wild nuts, fish and so on are polluted, it is necessary to travel long distances to buy food, though poor people cannot do this and have little option but to continue to eat polluted food. Illnesses besides thyroid cancer are also prevalent and it is reported that health problems are appearing among young children not yet born 25 years ago.
On March 11, the day after Mr. Pavel completed his visa application in order to travel to Japan, the Fukushima Daiichi NPP was struck by an earthquake and tsunami, causing a huge accident in which large amounts of radioactive material were released. We were unsure whether or not to go ahead with the plan to invite Mr. Pavel to Japan, but received a message from him saying that on the contrary he wished to tell the Japanese about his experiences at this time. Thus, while talks in Fukushima and Miyagi had to be cancelled, we were able to hear him speak in Tokyo, Hokkaido, Kyushu, Yamaguchi and Osaka. More than 4,500 people turned out for the demonstration in Tokyo, and at every venue far more people turned up than for the Chernobyl remembrance day in previous years. It is a great shame that the nuclear accident that should never have happened after Chernobyl has occurred in Fukushima, but I hope it will be possible to move forward with many people toward a nuclear phase-out to ensure that a similar tragedy will never happen again.
Nozomu Nagai (CNIC)