10.3 NO NUKES FESTA 2009 Nuke Info Tokyo No. 133
On October 3, about 7,000 people gathered in the rain in Tokyo for the 10.3 No Nukes Festa 2009, the first national gathering organized by the National Network Against Nuclear Energy since 2003 (see NIT 129). They called for a shift to alternative forms of energy that do not produce radioactive material.
Despite the inclement weather, booths did a lively trade in books about nuclear energy, organic vegetables and the local produce of people fighting nuclear power plants in the regions where they live. There were also booths exhibiting such things as renewable energy equipment. Goods and exhibitions by people living near existing or proposed nuclear power plants showed how local communities do not have to depend on nuclear power plants for their prosperity.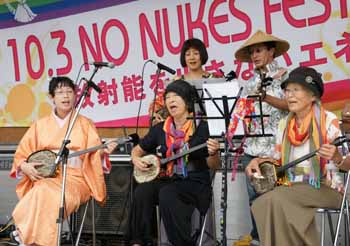 photo by Akira Imai
There was a wide range of musical performances on stage. In between performances, representatives of groups from around Japan made impassioned appeals about the issues that concerned them most. Hot issues were highlighted, including the fight to saveKaminoseki, the introduction of pluthermal at Genkai and the imminent restart of Monju. People from Aomori and surrounding prefectures spoke about the Rokkasho Reprocessing Plant. Residents living near the Kashiwazaki-Kariwa Nuclear Power Station and theHamaoka Nuclear Power Station spoke about the problems of earthquakes. People from Gifu spoke about their concerns regarding a facility in Mizunami City, which is researching the geological disposal of high-level radioactive waste. And people from Tokai Village spoke about the situation ten years after the Tokai criticality accident.
In the afternoon there were reports about the current situation regarding reprocessing, pluthermal and new nuclear power plants. Mizuho Fukushima, leader of the Social Democratic Party, which is a member of the new government, said there are many things that the new government can do, including reconsidering seismic design standards.
After adopting a statement and action plan, demonstrators paraded through the streets of Tokyo in time to the rhythmical beating of drums. Passers-by were attracted to their colorful clothes, placards and cries of "We don't need nuclear power!"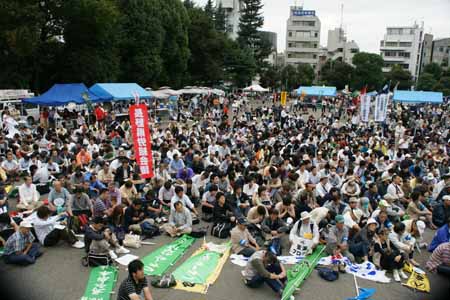 photo by Akira Imai
The previous day petitions were handed to the Ministry of Economy, Trade and Industry and the Ministry of Education, Culture, Sports, Science and Technology and in the evening a series of workshops were held. It was a tough schedule, but it was inspirational to have so many people from all around Japan gathered for one purpose.
By Nozomu Nagai (CNIC)