Book Review: Fukushima Radiation Will you still say no crime was committed? (NIT No. 173)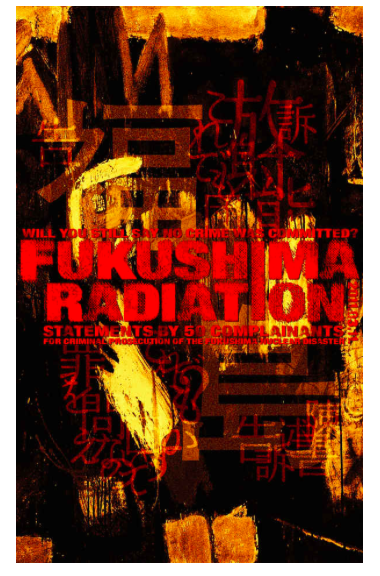 Fukushima Radiation
Will you still say no crime was committed?
– Statements by 50 Complainants for Criminal Prosecution of the Fukushima Nuclear Disaster
Translated by Norma Field and Matthew Mizenko
Available on Amazon as E-Book
<Book Review  by Caitlin Stronell, CNIC>
_____________________________________
This E-book was published in January 2015, but it began with the establishment of the Complainants for Criminal Prosecution of the Fukushima Nuclear Disaster, a group led by Ruiko Muto (see page 9) in March 2012. The goal, when this group was established, was to gather 1,000 complaints, and this was exceeded in May of that year. Starting in April Shukan Kinyobi (Weekly Friday) magazine began to publish these statements and they eventually accompanied the complaint filed at the Fukushima District Court on 11 June 2012.
As the translators mention in their Foreword, the Complainants do not stand to gain anything individually by filing this case, rather they are driven by 'grief, anger and incredulity.' These feelings are vividly conveyed to the reader. It is hard to imagine how the losses described by the Complainants can ever be compensated or even measured, for example, the seven year old boy who says that he wants to go back to the house where he was born where 'lots of animals and cats and goats all got along nicely.' Or the man, separated from his wife and new-born son who evacuated to a different prefecture, who has missed out on his son's 'first steps, his first words, his learning to stand, to crawl.' The mothers who are bringing up children all alone in distant places where they have evacuated, without the love and support of friends and families.
To answer the sub-title of the book, one is left in no doubt that serious crimes have been committed and that unless those responsible are identified and punished, Japan cannot be said to be a country where justice prevails. The implications are even more serious. If those responsible are not punished, surely the chance of another accident occurring increases. All these motivations are expressed movingly in the statements and one is left with a bitter taste of outrage as well as huge respect for the courage and actions of the Complainants.
The translators have included extensive footnotes explaining everything from the difference between micro-Sieverts per hour, milli-Sieverts per year and Becquerels, to the different evacuation zones, Japanese festivals, and the seismic intensity scale used in Japan. These are extremely helpful for those not familiar with these details, which are often referred to in any conversation about Fukushima, but sometimes not fully understood by those outside.
There is also a comprehensive Chronology of the activities of the Complainants group from the inaugural rally in Iwaki on 16 March 2012 right through to April 2015, charting the court proceedings, the rallies and other actions.
As Ruiko Muto says in the 'Sequel to "Afterword"' this e-book was published 'so that people around the world may know that the Fukushima nuclear disaster has not been brought under control; that it continues to spread harm; and how the nation of Japan is choosing to abandon the victims.'  One hopes that these powerful messages will indeed reach a global audience, and that these first hand descriptions of exactly how nuclear power destroys human communities and the devastation it continues to wreak on individual lives by perpetuation of a system that allows impunity for those responsible, will add to the growing global realization that the risks of nuclear power generation are unacceptable, especially when they are born entirely by ordinary innocent people.