Nuke Info Tokyo No. 194 (January/February 2020)
Nuke Info Tokyo is a bi-monthly newsletter that aims to provide English speaking friends with up-to-date information on the Japanese nuclear industry and the movements against it. 
Editor: Caitlin Stronell; Translators: Pat Ormsby, Tony Boys, Nishioka Mayumi, Mizuno Sumie; Proofreaders: Tony Boys, Yamaguchi Yukio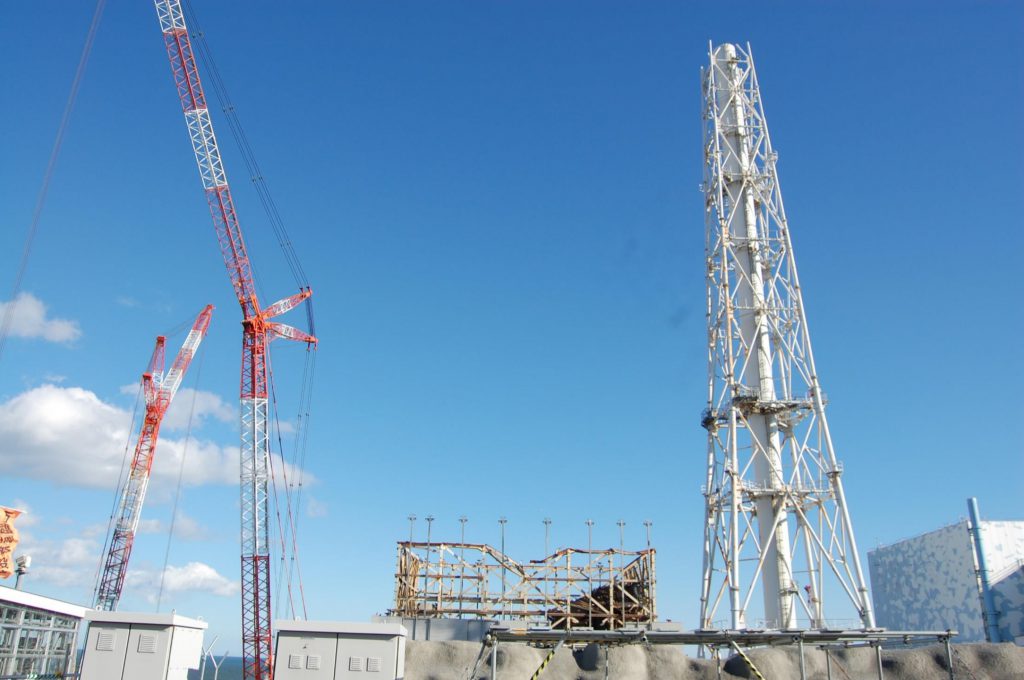 Inside Fukushima Daiichi Nuclear Power Station. The skeletal remains in the center of the photo are what is left of Unit 1 and to the immediate right is the Unit 1 and 2 exhaust stack. Dismantling of this stack finally began in August 2019, after several delays due to the crane which TEPCO deployed not being the right height or capacity. The exhaust stack was used to vent vapours containing radioactive materials at the time of the accident and is highly contaminated and unstable due to damage. It was decided to dismantle half of the stack, which is 120 meters high, to reduce the risk of it collapsing. On the day this photo was taken, 12 Dec 2019, the cutting of a total of 4 blocks from the top of the stack had been completed. Photo courtesy of Zero Nukes Parliamentary Group.
CONTENTS:
Considering radioactive damage from typhoon Hagibis
Is it safe to restart disaster-hit Onagawa Nuclear Power Plant?
Responses to the regulatory standards for the Rokkasho Nuclear Fuel Reprocessing Facility concerning changes in the fuel conditions
Reference Material: Radiation Exposure Data for Nuclear Industry Workers (FY 2018)
News Watch Temporary injunction against resumed operation of Ikata Unit 3 reactor / A series of accidents occur at the Ikata NPP / Japan's first retrieval of spent MOX fuel conducted at Ikata Unit 3 / Shirahama Town Assembly establishes regulation refusing importation of nuclear waste / Kansai Electric Power Co. (Kanden) officials accused of misappropriating nuclear funds / Fukushima Daiichi NPP decommissioning progress schedule revised / More than 13 trillion yen for NPP restarts and maintenance
Group Intro: Everyone's Data Site ~Collective Database of Citizens' Radioactivity Measuring Labs