CNIC Statement: Hokkaido Electric Power Company is not Qualified to Operate Nuclear Power Plants. Accept the Court Verdict and Close the Tomari NPP!
Citizens' Nuclear Information Center
2 June 2022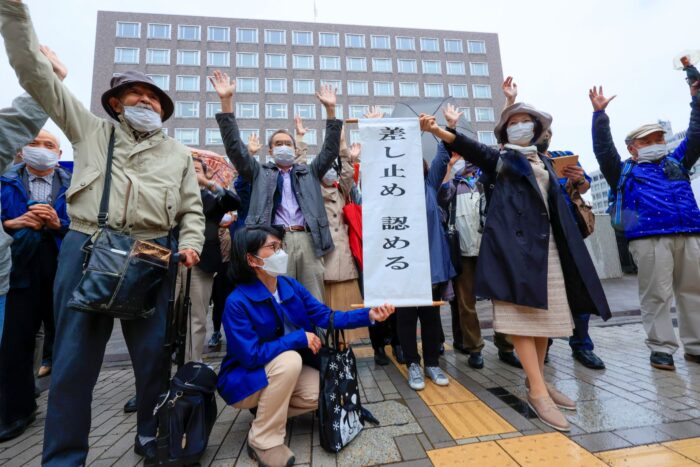 On May 31, Sapporo District Court (Presiding Judge Taniguchi Tetsuya) handed down a verdict suspending the operation of Tomari Nuclear Power Plant. The reason given for the verdict was that the breakwater at the plant was dysfunctional, thereby placing in grave danger the rights of residents in the surrounding area should a severe accident occur due to operation of the plant.
It is now a decade since local residents instituted legal proceedings, and roughly eight years have passed since Hokkaido Electric Power Company (HEPCO) applied to the Nuclear Regulation Authority (NRA) for approval under the new nuclear regulatory standards. Despite this, there is no firm schedule for when the defendant, HEPCO, will complete the demonstration of safety of the plant, and the local residents have been forced to respond endlessly to HEPCO's claims, which have continued to change as the regulatory review meetings have proceeded. The verdict handed down was therefore a judgment that it had become impossible to justify a continuation of the review in this situation.
Even if the safety review by the NRA is continuing, since HEPCO was unable to convince the court of its claims, it can be said that the company has clearly shown its lack of capability, and therefore has no qualification to operate a nuclear power plant. CNIC demands that HEPCO accept the court verdict and close the Tomari Nuclear Power Plant.
Further, the local residents also demanded the removal of spent nuclear fuel and decommissioning of the reactors, but these demands were rejected for reasons including inability to designate a destination for the removed nuclear fuel and that decommissioning was unnecessary. In addition, while the plaintiffs totaled more than 1,200 people, only 44 who live within a radius of 30km of the plant were recognized as potentially having their rights infringed. Despite these points, a verdict to suspend the operation of a nuclear power plant is welcomed as the third since the Fukushima nuclear accident following those at Ohi and Tokai No.2 nuclear power plants.