Anti-Nuke Who's Who Michiaki Furukawa: "A Man of Knowledge and Action" Nuke Info Tokyo No. 80
By Kimiko Shizuri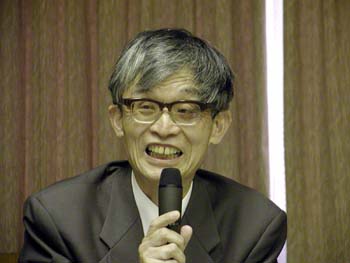 A year has past since that shocking JCO criticality accident. Unusual words such as 'criticality', 'neutrons' and 'sievert' were heard nation-wide. The accident brought nuclear power issues to the front, and though in different degrees depending on their circumstances, people reflected on nuclear power. The government formed the accident investigation committee and hastily created its final report. In what seemed like an effort to forget this nightmare as soon as possible, the government largely blamed JCO workers for causing the accident with hardly any reflections on its own responsibilities.
On the other hand, the Citizens' Nuclear Information Center and the Japan Congress Against A- and H-Bombs formed the JCO Criticality Accident Comprehensive Assessment Committee, and examined what the real problems were. The Committee recently published its final report. The real subject of this article, Dr. Michiaki Furukawa, is the man who made a lot of effort to get the Committee's long discussions condensed down to a statement of conclusions. Dr. Furukawa is a member of CNIC's Board of Directors. He has appeared as one of the expert witnesses in the court case against the Government on granting permission for the uranium enrichment facility located in Rokkasho, Aomori Prefecture. Many commented that his testimony on 28 July 2000 was very convincing, as the one by Dr. Jinzaburo Takagi last spring was. Dr. Furukawa was also a speaker for CNIC's open seminar on 9 November 2000 about the JCO accident.
Fundamentally, he is an excellent nuclear chemist. He has taught at a number of universities for many years, and I am his first graduate student of Nagoya University. Apart from studies and research, I learned much from him. He is widely informed, and has his own ideas. He initiates them by his peculiar expressions. I think he loves teaching by nature. If you sit next to him at a table and have beer, be resolved to listen only to him for the next two hours. I guarantee you'll have a good time with him.
If I remember correctly, he became 67 years old last June. Yet he still teaches at a private university, and goes to several research institutes to help with their experiments, in addition to the activities I mentioned above. He must be very busy everyday. Two years ago, he was less energetic than now, so I asked him what had happened to him. He answered; 'I'm already in my last years'. I guess the long-time trouble he had had with his eyes was annoying him. His recent energetic activities make me assume that he has made peace with his turmoils. He is leading such a fruitful and refreshing life that it makes me feel that it is not so bad to be in your late years.
I want to warn you on one thing: he is a big fan of classical music. His daughter became a vocalist because of his influence. Stay away from him if he is listening to 'Boris Godounov.' He listens to it when he is in an extremely bad mood.